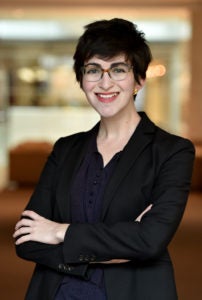 Nina is a St. Louis native. She graduated magna cum laude from Tufts University with a degree in American Studies and a minor in Political Science.
With a team of students, she organized a successful campaign for the creation of improved university policies and resources for survivors of campus sexual violence, as well as a campaign for a more robust university nondiscrimination policy.
She came to D.C. for a service year with Avodah: The Jewish Service Corps, during which she coordinated legal services at Bread for the City, a local multi-service anti-poverty organization. She spent the next several years working at Bread for the City as a public benefits paralegal, representing clients receiving Social Security disability benefits, TANF, food stamps, and Medicaid in administrative proceedings to obtain wrongfully denied benefits. She became deeply invested in struggles for equitable development and affordable housing in D.C.
Nina also volunteers as an organizer with IfNotNow, an organization of young American Jews working to shift the American Jewish community against Israeli occupation policies and for Palestinian civil rights. Her experience in and enthusiasm for community organizing and building power within communities informs her perspective on legal work.
She is interested in shifting governmental responses to domestic poverty, looking particularly at welfare programs and inequitable housing development, as well as in disability justice issues. She is thrilled to grow as an advocate at Georgetown Law.