Early Outreach Initiative
Georgetown Law's Early Outreach Initiative is designed to increase the diversity of the law school applicant pool by reaching out to high school students in under-served communities.
It's no secret that the legal profession suffers from a lack of diversity. People of color, first-generation college students, people from socio-economically disadvantaged, and other groups are underrepresented in law. Georgetown Law is working to change this — not only through financial aid, loan forgiveness, and other tried-and-true methods, but through Georgetown's unique and original Early Outreach Initiative to high school students from diverse backgrounds.
---
Starting The Law School Conversation — In High School
But why should one of the nation's top law schools reach out to high school students? Because for many lawyers, the idea of going to law school first took root while they were high school students. The Association of American Law Schools surveyed thousands of law students about when and how they first considered the idea of law school. Results showed that the seeds were often planted early. Most law students had first considered law school before college. (And over a third had first considered law school before high school.) Black law students were even more likely to have first considered law school prior to college. In most cases, going to law school requires early, pre-college exposure to the idea of law school. But inequality among the resources of families and schools means that people of color, first-generation college students, and socio-economically disadvantaged people are less likely to have such exposure.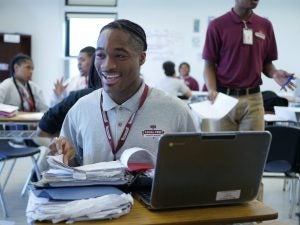 Through the Early Outreach Initiative, Georgetown Law's Dean of Admissions Andy Cornblatt and his law students are providing just those kinds of connections to high school students — putting law school on their radar, introducing high school students to the idea of a legal career, and building long-lasting relationships.
---
How The Early Outreach Initiative Works
Like Georgetown Law itself, the Early Outreach Initiative is national in scope. Georgetown Law is partnering with over forty high schools across the country, including in Baltimore, the Bay Area, Boston, Chicago, Detroit, Los Angeles, Mississippi, New Mexico, New York, Newark, Philadelphia, South Florida, and Washington, DC. At each of these high schools, Georgetown Law works with a group of 25 high school seniors, by visiting with these students three times during their senior year, and staying in contact afterwards.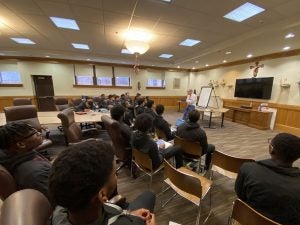 During the first set of visits, Dean Cornblatt travels to each participating high school to meet with the 25 seniors, to offer an introduction to law and law school. "Dean Cornblatt is a dynamic speaker," says Didier Jean-Baptiste, dean of seniors and college placement at St. Benedict's Preparatory School in Newark, and his visit "sparked an interest in law school among [students] who attended his presentation."
During the second set of visits, current Georgetown Law students travel to the same high schools, meet with the same groups of seniors, and share their stories — of how they got from where these high school students are now to Georgetown Law.
For the third set of visits, it's Georgetown's turn to play host. Georgetown Law is bringing all participating high school seniors to visit the law school in Washington, DC. The visiting high school students will meet with Georgetown Law faculty and students, visit Capitol Hill, and meet with local attorneys from a range of practice areas.
And these visits are just the start. Georgetown Law is connecting all participating high school seniors with attorneys from around the country to serve as mentors and points of contact, giving these students guides and advisers during their college years, and further helping them prepare for law school. As one high school senior from Legal Prep Charter Academy remarks, the Early Outreach Initiative is about "lifelong connections that may open up doors in the future for me". Rather Stanton, Legal Prep's co-founder, agrees. "Legal Prep is thrilled to partner with Georgetown… This effort will help show over a thousand diverse students each year that the legal profession needs and wants them."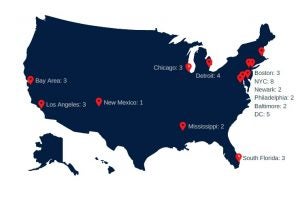 Having now met with around a thousand high school seniors across the country, Dean Cornblatt says that he is struck by their passion and interest in the law. "These kids are engaged and their interest is sparked," he says. "What was missing before was someone reaching out to these kids, to show them the path forward, to show them that law school can be affordable and can be doable, to show them some ways to get to law school. And now they can see that path." Nor are the high schoolers the only beneficiaries. "If we want a more diverse legal profession, we need more diverse law schools," remarks Dean Cornblatt. "But if we want more diverse law schools, we need a more diverse applicant pool. Reaching out early to high schoolers can help get us there."
Read more about one high school's experience with our program!
---
Partnering with Schools
Is your high school interested in partnering with Georgetown Law as part of Project 1000? Please fill out a short form with information about your school.
---
Support from Firms
Establishing deeper connections between high school students and the legal community is at the heart of Project 1000. Law firms across the country are committing financial support for the first five years of the program, and identifying current associates to mentor program participants. If your firm would be interested in participating, please email us at earlyoutreach@georgetown.edu.
---