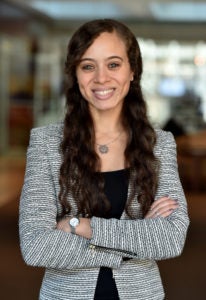 Sabrina is a first-generation Haitian-American, born and raised in New York. She attended Villanova University and graduated summa cum laude in 2016 with a B.A. in both Psychology and French and Francophone Studies.
During her time at Villanova, she volunteered as an advocate with LIFT Philadelphia. While there, Sabrina advised low-income families on securing employment, housing, public benefits, and other basic needs. This experience was formative to Sabrina's time as an undergraduate and helped inform her decision to pursue a career in social justice.
In her senior year, Sabrina collaborated with Villanova's French and engineering departments and Catholic Relief Services in an effort to provide clean water and treatment services to target villages in Madagascar. She used skills in English-French translation to facilitate the creation of an online course in water treatment. This course allowed greater access to training needed by Malagasy engineers to maintain clean water systems in their communities. From this, Sabrina learned the importance of sustainability in social justice work.
After graduating, Sabrina served as an AmeriCorps VISTA through Philly Fellows, a competitive, post-graduate service fellowship. During this year, she worked as the Admissions Specialist at Year Up, a national nonprofit organization committed to closing the opportunity divide for young adults. She coordinated and updated admissions processes while creating meaningful community partnerships.
These efforts allowed for greater access to higher education for the program's young adults. Having recently finished her term of service, Sabrina is eager to continue this work while pursuing education law at Georgetown. She hopes to advocate for the educational rights of underrepresented youth and larger education reform across the nation.