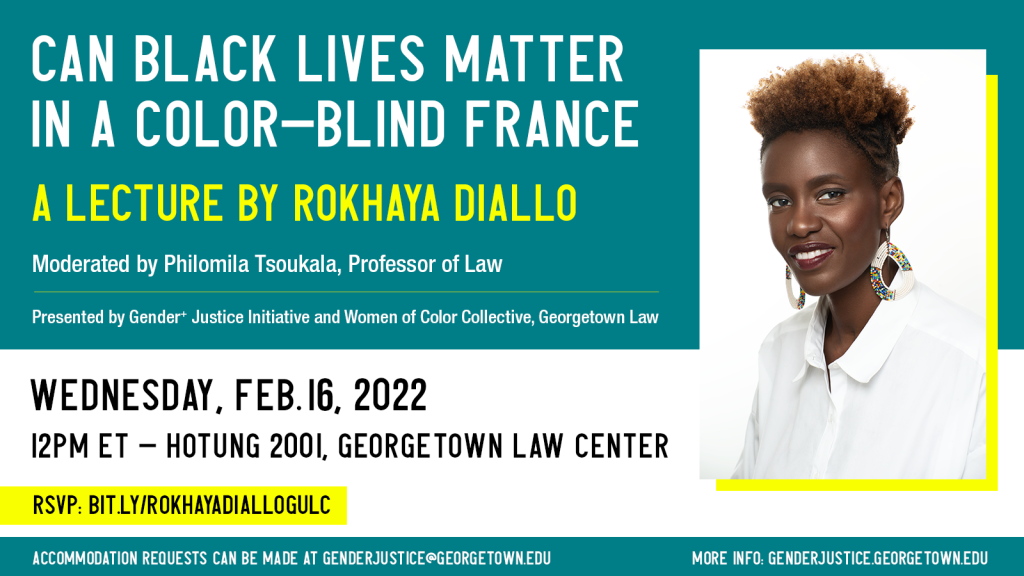 In-Person Event – Open to Georgetown Community Only
Hotung 2001 – Georgetown University Law Center
Join us for a lecture and discussion with acclaimed French author, filmmaker and journalist Rokhaya Diallo
Moderated by Philomila Tsoukala, Professor of Law, Georgetown University School of Law
This event is hosted by the Georgetown University Gender+ Justice Initiative and the Women of Color Collective, Georgetown Law.
Can Black Lives Matter in a Color-Blind France?
Rokhaya Diallo will discuss how various French policies overlook structural racism in the name of universalist ideals.
France promotes a model of coexistence based on universalist principles that promises equality among all citizens and protection against racism. Yet, the word "race" itself is taboo and has been subject to debate for more than a decade. As such, in 2018, a commission of lawmakers unanimously agreed to remove the word "race" from the first article of the French constitution. The founding text initially stated: "France shall be an indivisible, secular, democratic and social Republic. It shall ensure the equality of all citizens before the law, without distinction of origin, race or religion." It now states: "without distinction of gender, origin or religion."
This gesture reinforces a series of color-blind policies unique to France. Rokhaya Diallo will give an overview of various laws that overlook structural racism, including policies related to data collection. She will also discuss how millions of Black and Brown French citizens – in France and overseas territories – reconcile with a state that all too often denies their radicalized existence and experiences.
About the speaker:
Rokhaya Diallo is the Gender+ Justice Initiative inaugural Research-in-Residence. She is widely recognized for her work as an antiracist and intersectional feminist advocate. Diallo appeared in the 2021 Politico Annual Ranking among the 28 most powerful people in Europe, which includes Emmanuel Macron and Angela Merkel.
In the past decade, Rokhaya Diallo published numerous articles and books, directed eight documentaries, and hosted TV/radio shows, podcasts and is a frequent commentator on questions of racial, gender and economic justice. She writes a monthly column in the Washington Post covering issues related to racism and sexism. She was a host for BET and is a commentator for leading French radio RTL and news TV channels BFM and LCI. Along with Grace Ly, Rokhaya Diallo created the podcast 'Kiffe Ta Race', a show dedicated to discussing issues of identity and race, which is ranked amongst the best Apple podcasts.
Rokhaya Diallo received a MA in International and European Law from the University of Paris Panthéon-Assas, a MA in Marketing and Distribution from University of Paris Panthéon-Sorbonne, and a MA in Negotiation and Marketing from École Supérieure de Négociation Commerciale, Paris.
Important Event Details:
– This event will be hosted in-person and only open to Georgetown ID Card holders only. If you are not a member of the Georgetown Community (student, faculty, staff), you may not attend the event on Georgetown Law campus.
– Mandatory RSVP on Eventbrite
Accommodation requests can be made at genderjustice@georgetown.edu