Bettina E. Pruckmayr Memorial Award
The Bettina E. Pruckmayr Memorial Award is presented each year to a graduating J.D. student who has demonstrated a commitment to international human rights work.
The award honors Bettina Pruckmayr, a 1994 Law Center graduate who was dedicated to advancing human rights and the public interest. During her time at Georgetown Law, Bettina co-founded the German American Law Students Association and served as the chairperson of the Georgetown Law chapter of Amnesty International. After graduation, Bettina served as director of the World Federalist Association's International Criminal Court project. Bettina's life was tragically cut short when she was killed in December 1995 during a violent mugging that took place near her home in Washington, D.C.
"Bettina had an inner spark that energized everyone around her," says Professor Elisa Massimino, Executive Director of the Human Rights Institute. "She was brimming with creative ideas for how to make human rights real in people's lives. Her example continues to inspire our community."
Each year, the Human Rights Institute selects one graduating J.D. student who has demonstrated outstanding commitment to human rights work to receive this award. The award winner receives $2,000 through a gift fund established by the Pruckmayr family.
A call for nominations goes out to the campus community every spring, and nominations can be submitted by email to the Human Rights Institute.
2023 Award Winner — Abbey Koenning-Rutherford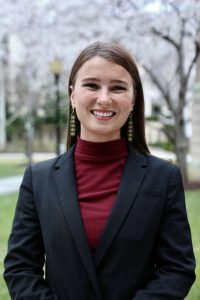 Abbey embodies the spirit of Bettina Pruckmayr through their infectious enthusiasm and tireless dedication to fighting injustice, advancing human rights, and fostering community. They are an outspoken advocate and leader at the intersection of Indigenous sovereignty, human rights, and the environment.
As an energizing force on campus, Abbey has used their platform in numerous leadership roles—as the President of the Native American Law Students Association (NALSA), the Vice President of the Georgetown Green Campus Alliance, and a Development Editor for the Georgetown Journal of International Law—to catalyze human rights work within the Georgetown community. As the President of NALSA, Abbey successfully advocated to increase the number of Native students on campus. Fellow law students have described Abbey as both a fearless advocate and an encouraging mentor to students interested in human rights, with an innate ability to create opportunities for collaboration and community-building among Georgetown student groups.
Abbey has tirelessly dedicated their legal work and extracurricular efforts to advancing human rights, particularly at the intersection of environmental law and the sovereignty of Indigenous communities. They have specialized in community impact environmental issues at the Natural Resource Defense Council, EarthRights International, and Earthjustice, where they supported tribal communities to fight for clean water. Last fall, they flew to the Midwest to support Indigenous water defenders' organizing work, and they worked on a documentary on the rights of Indigenous communities in Wisconsin. Abbey also authored an innovative note published in the Georgetown Law Journal that ecocide should be prosecuted as genocide against Indigenous people.
Abbey has also used every opportunity throughout their coursework and internships during law school to advance the rights of marginalized communities, including immigrants. As a student attorney and later a research assistant for the Center for Applied Legal Studies, Abbey prepared clients' applications for asylum, including by conducting weekly trauma-informed interviews and advocating to immigration officials. Abbey also externed at Al Otro Lado, where they interviewed asylum clients to support the preparation of their applications. Through the Human Rights Advocacy in Action Practicum, Abbey worked to advance accountability for ISIS's crimes of genocide and sexual violence against the Yazidis, a marginalized ethnoreligious minority in Iraq.
Following graduation, Abbey will be serving as the Aryeh Neier Fellow at Human Rights Watch and the ACLU, where they will continue to advocate for Indigenous rights.
Past Award Winners