Bettina E. Pruckmayr Memorial Award
The Bettina E. Pruckmayr Memorial Award is presented each year to a graduating J.D. student who has demonstrated a commitment to international human rights work.
The award honors Bettina Pruckmayr, a 1994 Law Center graduate who was dedicated to advancing human rights and the public interest. During her time at Georgetown Law, Bettina co-founded the German American Law Students Association and served as the chairperson of the Georgetown Law chapter of Amnesty International. After graduation, Bettina served as director of the World Federalist Association's International Criminal Court project. Bettina's life was tragically cut short when she was killed in December 1995 during a violent mugging that took place near her home in Washington, D.C.
"Bettina had an inner spark that energized everyone around her," says Professor Elisa Massimino, Executive Director of the Human Rights Institute. "She was brimming with creative ideas for how to make human rights real in people's lives. Her example continues to inspire our community."
Each year, the Human Rights Institute selects one graduating J.D. student who has demonstrated outstanding commitment to human rights work to receive this award. The award winner receives $2,000 through a gift fund established by the Pruckmayr family.
A call for nominations goes out to the campus community every spring, and nominations can be submitted by email to the Human Rights Institute.
2022 Award Winner — Prashasti Bhatnagar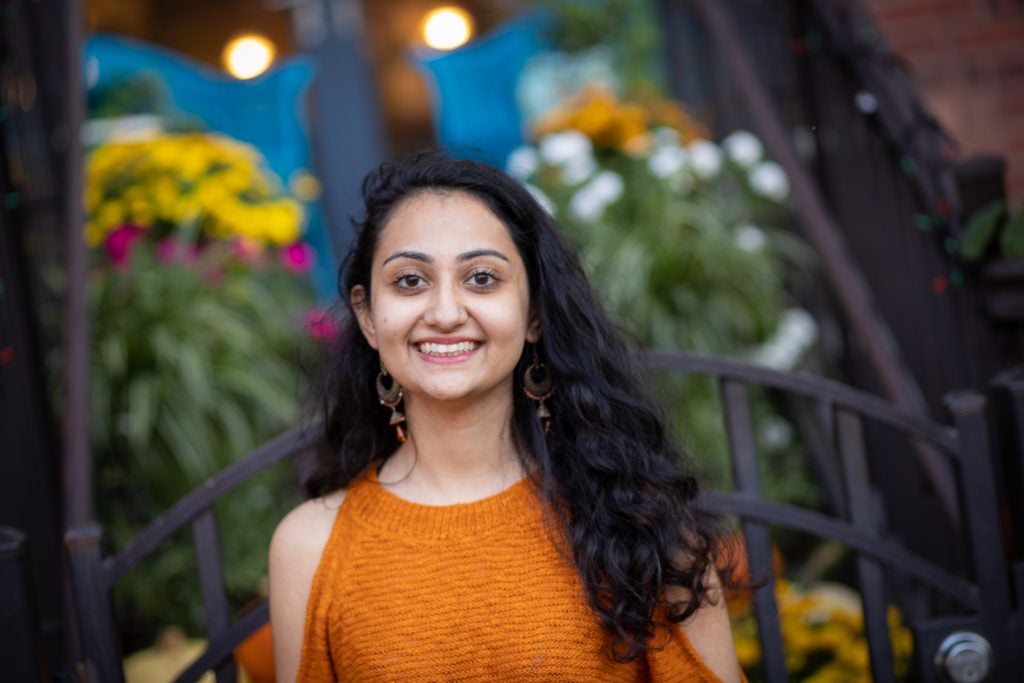 The Human Rights Institute is pleased to announce that Prashasti Bhatnagar (L'22) has been named as the recipient of the 2022 Bettina E. Pruckmayr Memorial Award.
While completing her joint master's degree in public health at Johns Hopkins, Prashasti co-founded the Anti-Racist Coalition to develop an anti-racist praxis in public health and worked with the Center for a Livable Future to help address the public health and legal challenges facing farmworkers and other food system workers. At Georgetown, Prashasti worked with the Human Rights Institute to research health and human rights in Syria and Kashmir. She also supported the O'Neill Institute for National and Global Health Law to advocate for structural interventions to address Hepatitis C disparities within LGBTQ+ and immigrant communities. As a student advocate in the Health Justice Alliance Law Clinic, Prashasti represented low-income families to advance their access to health and well-being. She also led a project that sought to address the persistently high rates of maternal and infant mortality in the Black community in Washington, DC. Prashasti is the lead author on a report that Professors Yael Cannon and Vicki Girard say will "be a catalyst for future advocacy and action in a city with one of the highest rates of gentrification alongside persistent racial disparities for Black birthing outcomes, providing a platform for advancing human rights in our own city."
In addition to her research and advocacy, Prashasti led collaborative efforts that reimagine immigration systems and publish scholarship that is rooted in justice, innovation, liberation, and human rights. As Editor in Chief of the Georgetown Immigration Law Journal, Prashasti launched an innovative initiative called #ImmigrationAND, a series of discussions alongside a suggested curriculum which together explore the intersection of immigration with other topics, such as human rights, settler colonialism, AAPI justice, and health justice.
See Prashasti's LinkedIn.
Past Award Winners