"Small Places, Close to Home"
Human Rights in the United States: A Conversation Series
For many people, "human rights" connotes the struggle for freedom and dignity in other countries, often in the context of major geopolitical or ideological contests. But that misses the essential wisdom and power of the human rights idea: that respect for the inherent dignity of every individual—and protection of their human rights—begins in "small places, close to home."
Eleanor Roosevelt, a chief architect of the Universal Declaration of Human Rights, put it this way:
Where, after all, do universal human rights begin? In small places, close to home—so close and so small that they cannot be seen on any maps of the world. Yet they are the world of the individual person; the neighborhood he lives in; the school or college he attends; the factory, farm, or office where he works. Such are the places where every man, woman, and child seeks equal justice, equal opportunity, equal dignity without discrimination. Unless these rights have meaning there, they have little meaning anywhere. Without concerned citizen action to uphold them close to home, we shall look in vain for progress in the larger world. 
To explore the relevance of the human rights framework to rights struggles "close to home," the Human Rights Institute is launching a series of conversations about systemic rights challenges in the United States.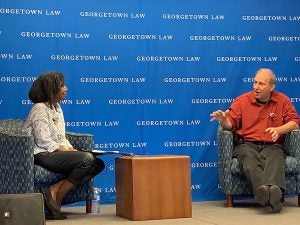 For the inaugural talk, Diann Rust-Tierney, Georgetown's Drinan Chair in Human Rights and longtime Executive Director of the National Coalition to Abolish the Death Penalty, sat down with Marc Bookman, Executive Director of the Atlantic Center for Capital Representation and author of "A Descending Spiral: Exposing the Death Penalty in 12 Essays," for a conversation on capital punishment in the United States. Many thanks to Professor Cliff Sloan for framing and introducing such an engaging discussion.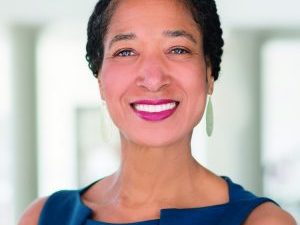 On Friday, December 3rd, the Human Rights Institute (together with the Women's Law and Public Policy Fellowship Program, the O'Neill Institute for National and Global Health Law, and If/When/How) hosted a conversation on access to abortion as a human right and on the linkages between restrictive abortion laws and the systemic oppression of women—especially Black and other women of color—in America.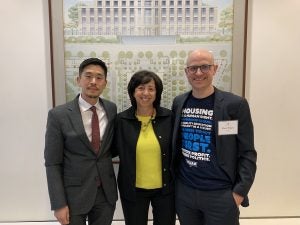 For many years, advocates in the United States have sought to make housing a fundamental human right—as central to our Bill of Rights as life, liberty, and the pursuit of happiness. This vision was endorsed at the highest level of our government when U.S. Dept. of Housing and Urban Development (HUD) Secretary Marcia Fudge declared housing as a human right in March 2022. HRI Executive Director Elisa Massimino sat down with with Eric Tars, L'04 (Legal Director of the National Homelessness Law Center) and Richard Cho (Senior Advisor—Housing and Services at HUD) to discuss policies that federal, state, and local governments can support to realize the guarantees in the International Covenant on Economic, Social and Cultural Rights at the domestic level.