A migrant model to follow: Portugal's response to the coronavirus
"At a time when many countries, including the United States, are indulging nationalist impulses and even using the crisis to further exclude and marginalize immigrants, Portugal is exemplifying a smart, pragmatic policy that both respects the rights and dignity of all people and helps minimize spread of the virus," write Elisa Massimino and Alexandra Schmitt.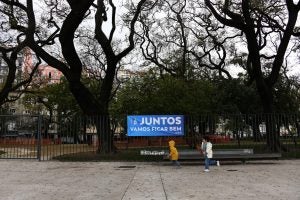 Two children run past a banner that says, "Together, we'll be fine," in Lisbon, April 2020. (Getty/NurPhoto/Jorge Mantilla)
Read Elisa Massimino and Alexandra Schmitt's article for the Center for American Progress here.