Promoting justice and accountability for Yazidi victims and survivors of genocide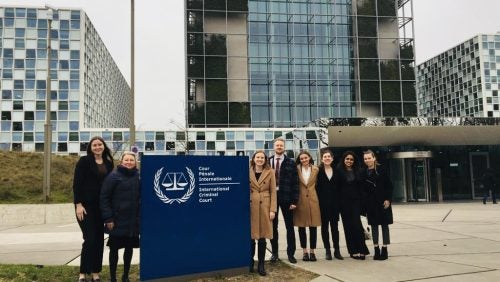 In partnership with Nadia's Initiative—an NGO founded by Nobel Peace Laureate Nadia Murad focused on ending sexual violence as a weapon of war—students in the 2022-2023 Human Rights Advocacy in Action Practicum worked to develop and advance innovative strategies to hold the Islamic State (ISIS) accountable for its crimes against the Yazidi people.  Applications for the 2023-2024 practicum are now open!
Over Week One, students took their learning outside the classroom.
Under the direction of HRI Executive Director Elisa Massimino, Deputy Director Michelle Liu, and Dash-Muse Senior Teaching Fellow Catherine Cooper, students embarked on a human rights field investigation to The Hague, Berlin, and the Kurdistan Region of Iraq, where they learned first-hand about Yazidi survivors' experiences and needs, the complex political and security environment in Iraq, and pathways for holding ISIS accountable.
Reflecting on her experience, Alexis Shanes (L'24) said, "My team's field investigation in Erbil was nothing short of extraordinary. I'm so grateful for the people who shared their time, stories, and expertise with us. We've heard time and again about the Yazidi community's resilience, so it's humbling to be part of the team providing legal support to the community as it seeks justice."
The experience was transformative. "The opportunity to engage with such a diversity of stakeholders—from high-level U.S. officials to Kurdish Ministers to Yazidi community members—all while gaining key strategic insights from our faculty instructors, human rights advocates who have been at the vanguard of so many successful campaigns, was an experience unlike any other," said Nicolas Friedlich (L'24).
During the spring semester, students continued to support Nadia's Initiative by honing and implementing new strategies for rights protection. "As a survivor," states Nadia Murad, "I see that the fight for justice is existential—crucial to both Yazidi survival and communal healing. I am confident that the Human Rights Institute's expertise and influence will translate into real change for our community."
Every year, the Human Rights Advocacy in Action Practicum partners with a human rights organization and supports its mission of promoting human rights around the world. Students conduct research, craft solutions, and develop advocacy campaigns with real-world impact.
Applications for the 2023-2024 practicum are open.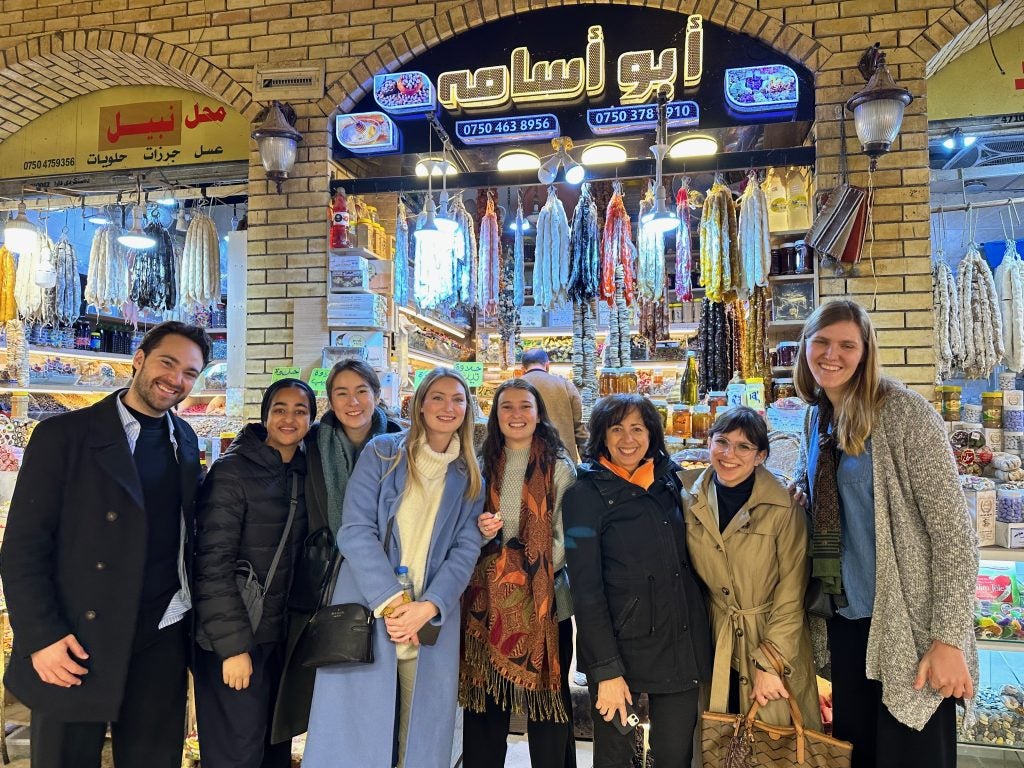 Practicum students traveled to Erbil, Kurdistan Region of Iraq to interview stakeholders on justice, accountability, and support for Yazidi victims and survivors of the ISIS genocide.