Uniformed Injustice:
State Violence against LGBT People in El Salvador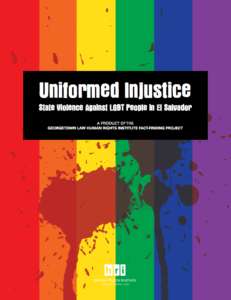 April 23, 2017 — A new report from Georgetown Law's Human Rights Institute documents widespread discrimination and violence perpetrated against lesbian, gay, bisexual, and transgender individuals in El Salvador at the hands of law enforcement officers, soldiers and justice system officials.
The report, "Uniformed Injustice: State Violence against LGBT People in El Salvador," is the product of months of research by Georgetown Law students in the Human Rights Institute's Fact-Finding Practicum, and includes interviews with over 50 human rights defenders, activists, victims, and government officials.
The vast majority of LGBT individuals interviewed had been physically, sexually, and/or verbally assaulted by members of the Salvadoran police or military, and advocates say such abuses are extremely common. Among all the interviews conducted, there was only one report that police officers who were successfully prosecuted for violence against a lesbian, gay, bisexual, or transgender person.
"I have been persecuted by security forces, on so many occasions," said one transgender interviewee who told the authors he suffered numerous beatings at officials' hands. Describing one incident, he said, "I just put myself in God's hands, because when I saw that they covered their faces, that's when I really got scared."
The report finds that Salvadoran police and military officers both target LGBT people for violence and escalate routine encounters with civilians into violent ones when they learn a victim's sexual orientation or gender identity. Following these attacks, LGBT victims are often prevented from filing complaints or find that police and prosecutors have failed to investigate the alleged crimes.
All of this occurs in spite of laws, policies, constitutional requirements and international human rights commitments that are meant to protect citizens from violence by state actors and impunity. The report found that while laws and policies have been enacted to address these issues, they are not being implemented.
The report concludes that El Salvador is failing to comply with its domestic and international human rights obligations, especially the rights to personal security, to be free from torture, against arbitrary arrest or detention, and of access to justice.
Alex Peña, whose ordeal is described in the report, echoed the struggle of many of those who spoke to the report authors when he said, "I need justice. I want the officers who did this to be jailed so people know hate crimes will be punished."
The Georgetown Law Human Rights Institute serves as the focal point for human rights activities at Georgetown Law and promotes Georgetown Law's role as a leader in the field of human rights.
Media Contacts:
mediarelations@law.georgetown.edu; mek119@law.georgetown.edu (English)
rea38@law.georgetown.edu (Spanish)
Additional Resources:
On Friday, April 21, 2017 the researcher's finding and recommendations were formally released during a Report Launch and Expert Panel event at Georgetown Law.
Mary Kenah and Caitlin Anderson, Uniformed Injustice: Police and Military Target LGBT Salvadorans, The Washington Blade (April 20, 2017).