October 3, 2022 from 12:00 – 1:15 p.m. EDT
Join us for the launch of the Center on Inclusive Trade and Development (CITD) "Erasing the And" series.  For too long, issues like development, gender, labor, environment, and health have been viewed as "add-ons" to trade policy.  This series reimagines trade law and policy in a way that puts these issues at the center of the discussion.  
Our first "Erasing the And" will focus on trade and access to medicines.  The June 2022 WTO MC12 TRIPS waiver on COVID-19 vaccines has prompted conversation about the measures necessary to improve access to medicines in low- and middle-income countries. The keynote address and panel discussion will explore the impact of this measure, its possible extension to pharmaceuticals and diagnostics, and the broader link between intellectual property, public health, and development.
---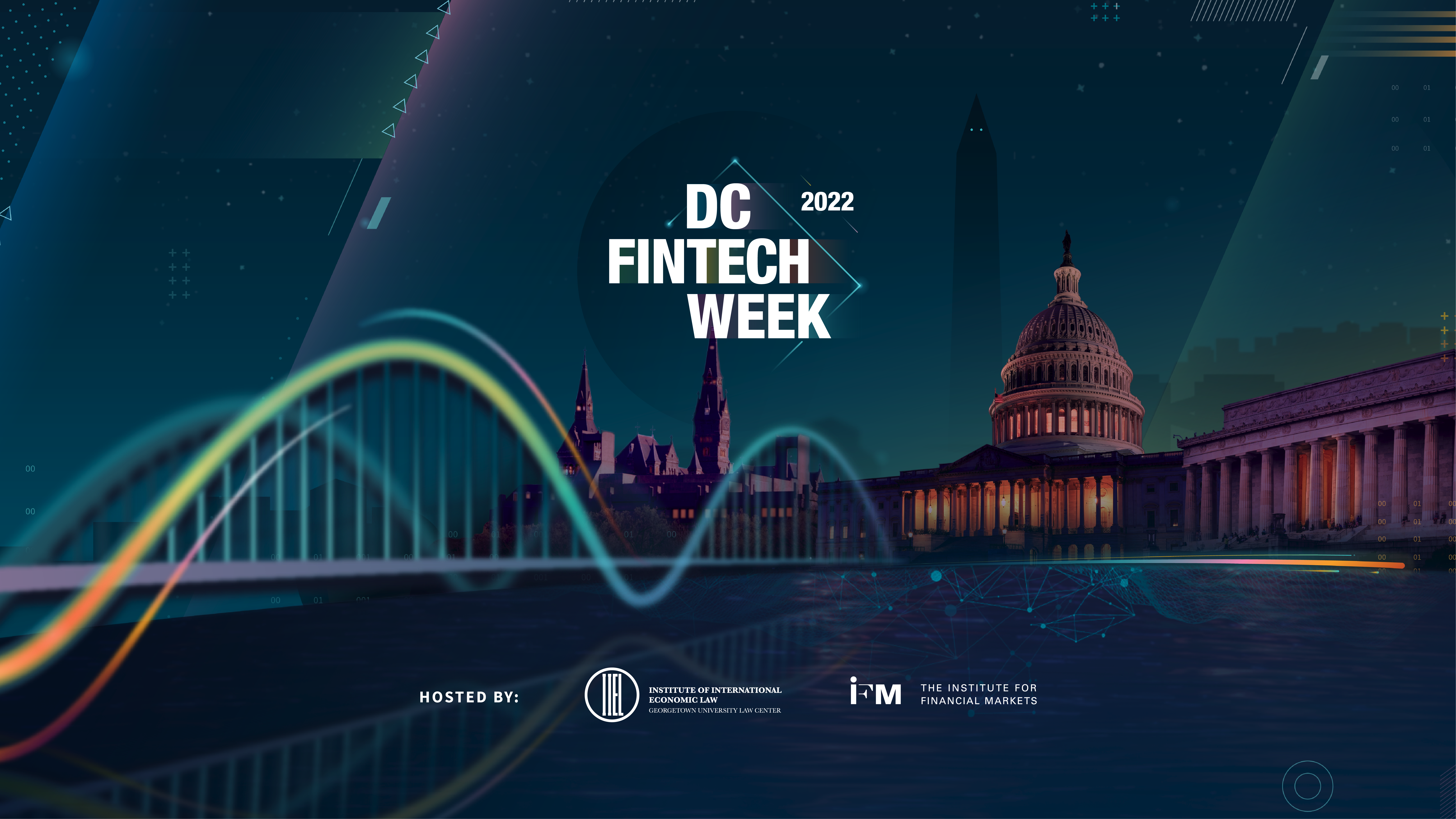 October 11 – 12, 2022
Ever since kicking off on the campus of Georgetown University Law Center in 2017, DC Fintech Week has had a simple objective: democratize information and allow everyone–from nonprofits and technologists to entrepreneurs and regulators–to engage one another, for free, in a meaningful dialogue about fintech and the future of finance.
On each day, on every panel, the conference brings the best and the brightest to Washington DC for discussions spanning the fintech ecosystem: crowdfunding, online lending, cryptocurrencies, cybersecurity, AI, open banking and more. As such, it is one of the few panels open to the public where top officers from the IMF, BIS, US Treasury Department, SEC, and beyond, are able to dialogue collectively with economists, Bitcoin traders, academics, civil rights activists, and digital infrastructure providers.
Since launching on Georgetown's campus in 2017, DC Fintech Week has become the leading forum for thoughtful discussions on fintech policy.  Speakers last year included IMF Managing Director Kristalina Georgieva, U.S. Treasury Undersecretary Nellie Liang, Bank for International Settlements General Manager Augustin Carstens, Acting Comptroller of the Currency Michael Hsu, FDIC Chair Jelena McWilliams, SEC Chairman Gary Gensler, and Acting FinCEN Director Him Das, Visa CEO Al Kelly and PayPal CEO Dan Schulman.  Plus we hosted newsmaker conversations with leading firms around the world on AI/ML, big data, CBDC, stablecoins, venture capital, cybersecurity, blockchain forensics and more.
We expect this year to be our most influential in-person event to date.  Our flagship conference will take place October 11 and 12, followed by a week of programming and events in Washington with the area's premier think tanks, international organizations, and the great city of the District of Columbia.
For more information, please visit the official DC Fintech Week website.
---

October 14, 2022 from 9:00 a.m. – 12:00 p.m. EDT
In partnership with Georgetown University, the Institute of International Economic Law and DC Fintech Week, CBDC Think Tank is hosting a morning of speed talks around blockchain and digital currency on Friday, October 14, 2022.
Talks (more confirming shortly):
The Macroeconomic Impact of Cryptocurrency and Stablecoins
Digital Money and Central Banking Operations
Economic Model of Consensus on Distributed Ledgers
Blockchain Consensus Mechanisms
CBDC and Cross-Border Payments
Stablecoin Economics
and more..
Held during the week of the IMF meetings, the Digital Currency Lecture series is part of CBDC Summit, a set of events around digital currencies and CBDCs.
---
October 20 – 21, 2022
The macroeconomic instability of the 2020s continues to fuel economic, social, and political turmoil worldwide and to recast our understanding of law and macroeconomics. The ongoing crisis has opened up new and vitally important research opportunities. As we press on towards pandemic recovery and confront new challenges, the Fifth Conference on Law and Macroeconomics will focus on the law's role in shaping a sustainable and resilient macroeconomy and on the role of macroeconomic policy in national, regional, and global governance.
The conference will take place virtually on October 20-21, 2022. Register here.