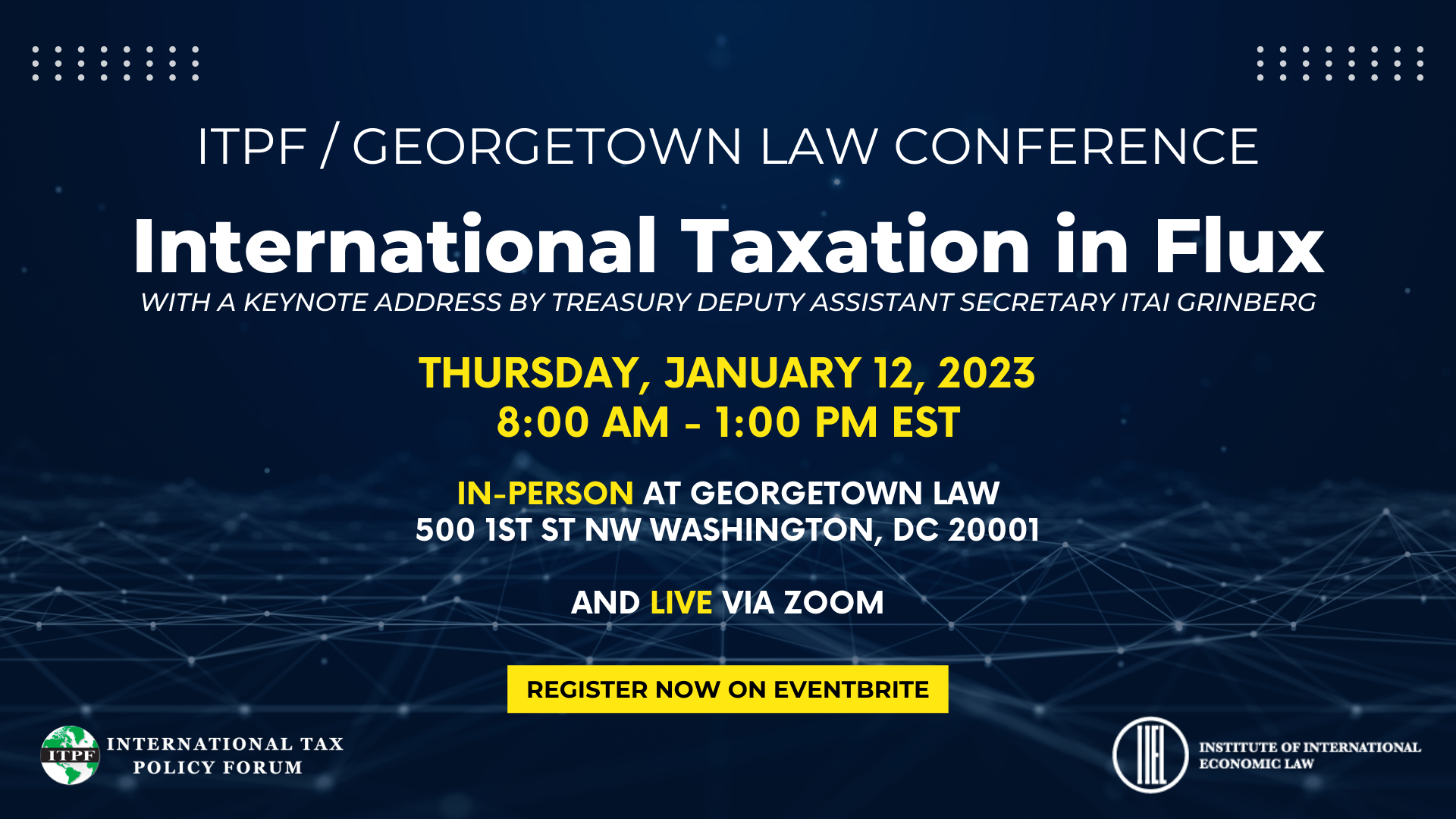 ITPF / Georgetown Law Conference – International Taxing Rights in Flux
January 12, 2023
Please join the Georgetown Law's Institute of International Economic Law (IIEL) and the International Tax Policy Forum (ITPF) for the 2023 ITPF / Georgetown Law Conference – International Taxation in Flux. The ITPF / Georgetown Law Conference 2023 – International Taxation in Flux will be held Thursday, January 12, 2023 in-person at Georgetown Law and virtually via Zoom. Seats are limited – reserve your seat today!
The nearly century-old bedrock principles for cross-border income taxation are crumbling under pressure from the globally integrated, knowledge-based economy and the need for governments to mobilize revenues to address, among other things, pandemic debt and demographic change.
In reaction to unilateral measures that breach international norms – such as digital services taxes – the OECD and G20 have led an initiative that produced in October 2021 an historic two-pillar "solution" to these tax challenges that has been agreed by 137 countries. The agreement would assign international taxing rights under a combination of arm's length pricing and unitary sales-based formulary apportionment and set a minimum rate of corporate income taxation.
This conference will assess the two-pillar project and consider whether it is fit for purpose and better than the alternatives, with a keynote speech from Treasury Deputy Assistant Secretary Itai Grinberg. Preview the 2022 conference agenda here.
—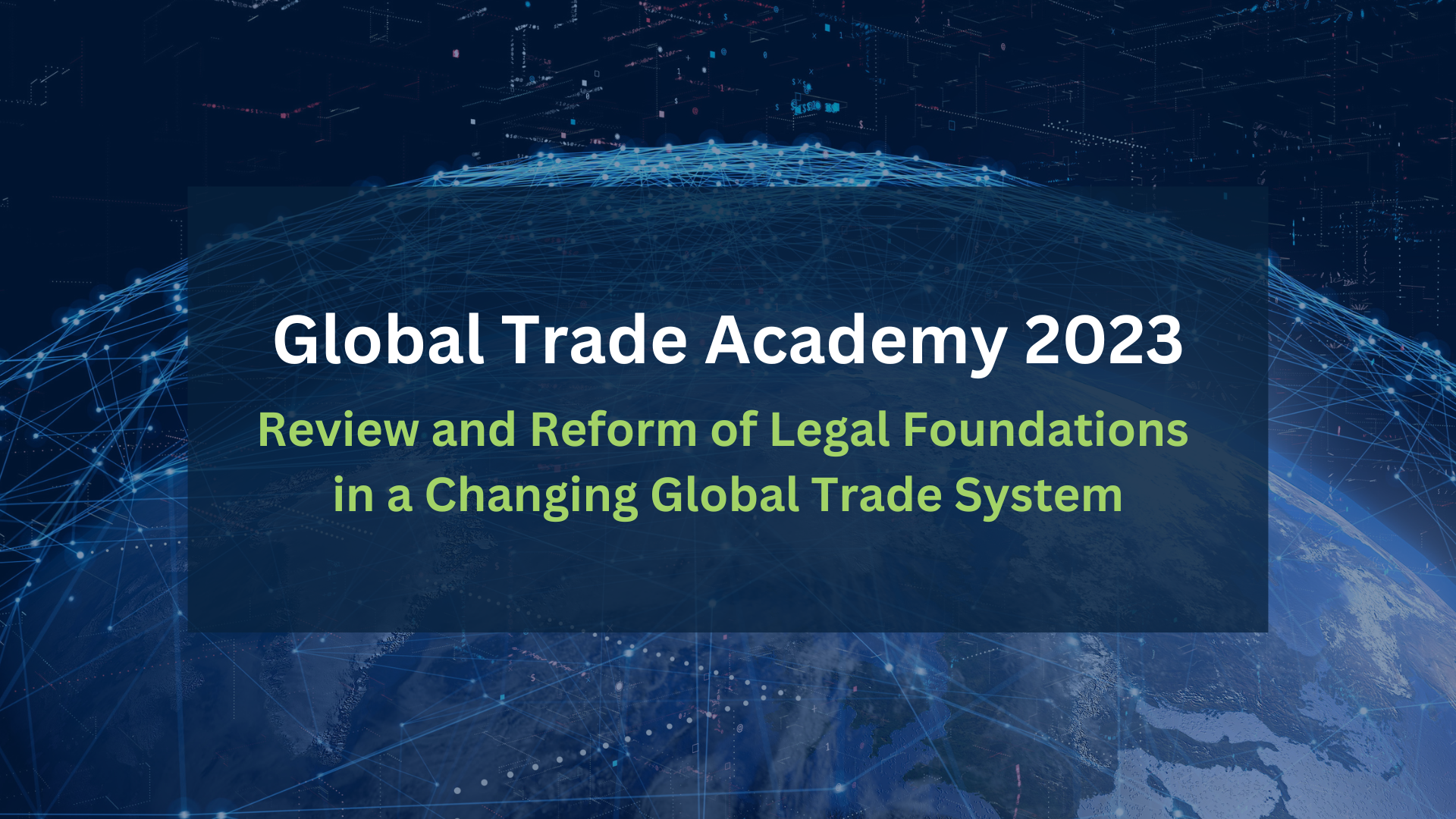 Global Trade Academy 2023 – Review and Reform of Legal Foundations in a Changing Global Trading System
March 27 – 31, 2023
Click Here for a Sneak Peek of the 2023 Global Trade Academy Agenda*
*More information to follow in early 2023.
A profound shift is occurring in international trade law. Due to several converging factors, and accelerated by the COVID-19 pandemic, the global trading system is increasingly moving in a direction of sustainable development and decentralized rule-making. Regionalism is on the rise, supply chains are getting re-evaluated, and multilateralism and the rules-based international trading system are being questioned. At the same time, there is an urgent call for the system to contribute to the fight against climate change, and to be updated to account for developments in digital trade, investment, and sustainability.  How will the trading system adjust and evolve in the face of these challenges?
IIEL's five-day Global Trade Academy (GTA) tackles these tough questions by providing participants with a custom-designed program that explores the legal foundations of the global trading system, the role of regional trade agreements, and the evolution of national policies in the face of rapidly changing global priorities and heightened geopolitical rivalries. Through presentations, interactive policy conversations, breakout/networking sessions and a simulation, participants will learn from leading experts about the origins of the system—as well as the most recent developments and disputes shaping the global economy. 
The Global Trade Academy is a pillar of IIEL's Executive Education program with over a decade of experience in training government, NGO, international organization, and private sector leaders.  Joining with colleagues from around the globe, GTA cohorts examine the legal foundations of the World Trade Organization (WTO) and its agreements, with a deep dive into the most cutting-edge global trade issues of the day. For more information and to learn more about past year's academies, please visit our website.
Tickets: The ticket price per person is $1,200. Groups of 3 or more pay $950 p.p. Government participants and participants from developing countries, universities, and NGOs pay $950. Please purchase your tickets here. 
Please contact us at lawiiel@georgetown.edu for booking your discounted ticket or for receiving a quote for a group rate. All participants of a group need to be booked at the same time in order to receive the special group price. No special group pricing will be issued retroactively.
Format: In 2023, the Global Trade Academy will be taking place virtually over Zoom. Sessions will end each day mid-afternoon EDT and will be recorded for the benefit of participants from different time zones. There will be an in-person networking reception at the Georgetown Law campus for participants located in Washington, D.C.
Who should attend? Diplomats, legal professionals, trade policy officials, members of the international business, IGO and NGO communities, academics, and others – including those from developing countries and transition economies. By design, this Executive Education program is open to more experienced leaders and younger professionals alike. One need not be an attorney to attend.    
Sponsorship Would you like to become a sponsor of the Academy or would you like to sponsor a participant? Please contact us at lawiiel@georgetown.edu.
—
For any questions, please do not hesitate to reach out to the Institute's Associate Director, Zainab Ahmed at za190@georgetown.edu.