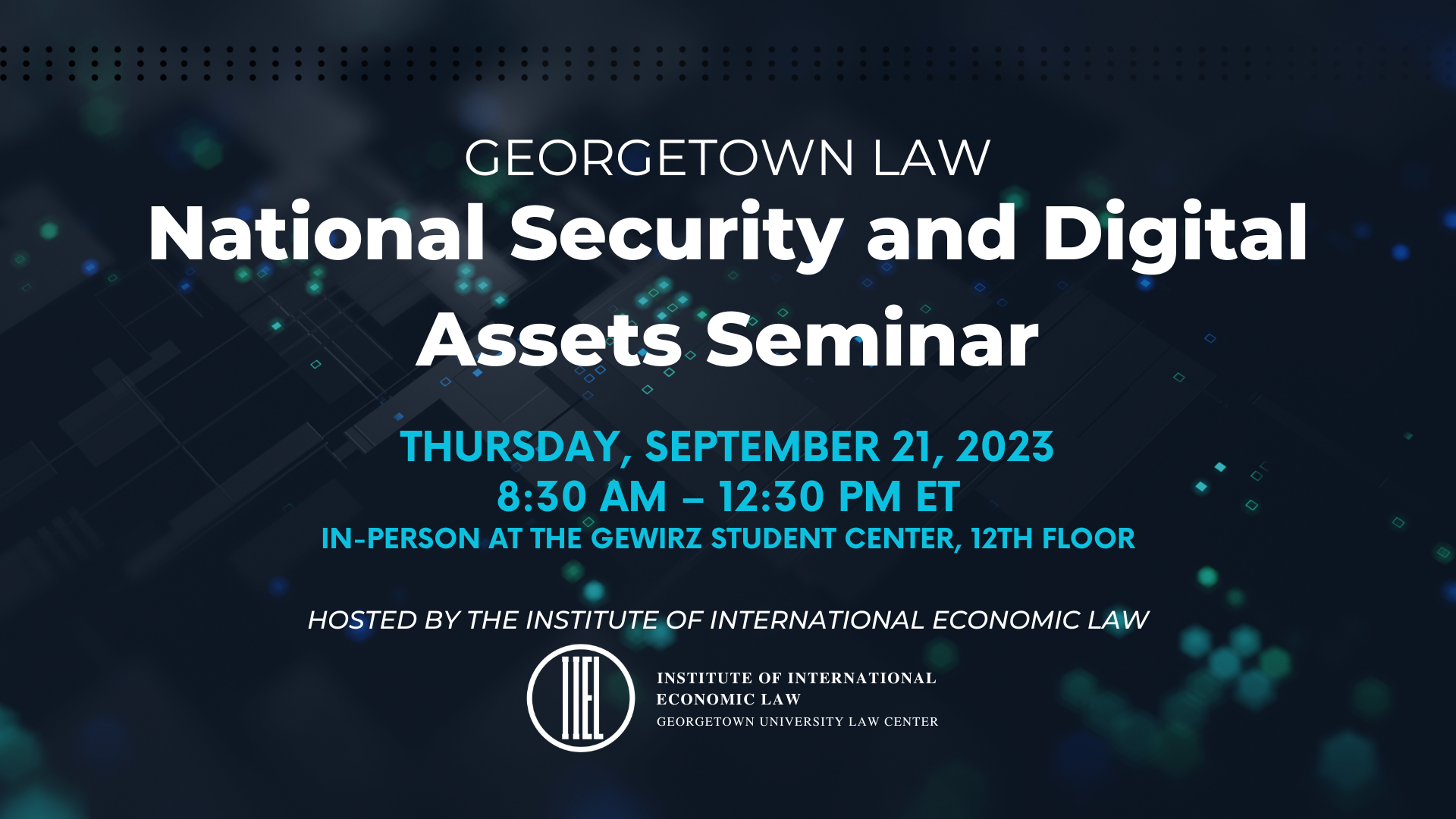 Please join Georgetown Law's Institute of International Economic Law on Thursday, September 21, 2023 from 8:30 a.m. – 12:30 p.m. ET. at Georgetown Law's Gewirz Student Center (120 F St NW, Washington, DC 20001) for National Security and Digital Assets Seminar, a half day policy seminar that delves into how the future of digital assets intersects with national security. This seminar brings together experts from economics, technology, and China to discuss the risks, rewards, and importance of digital assets in the context of national security and economic power.
8:30 a.m. Doors Open (Refreshments Served)
9:00 a.m. Welcome
Chris Brummer, Agnes Williams Sesquicentennial Professor of Financial Technology, Georgetown Law; Faculty Director, Institute of International Economic Law
9:05 a.m. Fireside Chat with Senator Pat Toomey: American Technology Policy Leadership and National Security
Overview: Countries around the world are exploring the utility of the blockchain and many are taking steps to help ensure their regulatory frameworks encourage use of this technology as it scales and grows. Join Senator Pat Toomey and Georgetown Law's Daniel Gorfine as they discuss the U.S. approach to digital assets and blockchain technology in this context, as well as the long-term implications for national security.
9:20 a.m. Panel: Digital Assets and National Economic Power: Truths, Myths, and Grey Areas
Overview: A country's currency and technology are routinely considered core to its economic power, but the reasons are diverse, and even disputed. To what extent do these theories apply to digital assets? What features or characteristics do they have that are relevant to the projection of national economic power? And how are the risks associated with digital assets relevant to understanding economic strategy? What are the relative benefits and risks of leadership—and can the United States use its other considerable resources and advantages to catch up with other countries if and when it fits its national interest?
Moderator: Anup Malani, Professor, Chicago Law
Panelists:
Peter Kerstens, Counselor, European Commission
Stephanie Murphy, Former U.S. Representative
Faryar Shirzad, Chief Policy Officer, Coinbase
Juan Zarate, Managing Director, K2 Integrity, Former Assistant Secretary of the Treasury for Terrorist Financing and Financial Crimes
10:00 a.m. Break
10:15 a.m. A Conversation with Colonel Sara Dudley
Colonel Sara Dudley, U.S. Army Special Operations Command Comptroller
10:25 a.m. Panel: China, AI and Crypto: The Next Great Power Frontline?
Overview: China has stated ambitions to have the world's most advanced blockchain technology by 2025—and, in conjunction with major investments in payments, it is making substantive strides in fintech, AI and crypto. Following its success in industries as varied as 5G, semiconductors, and pharmaceuticals, its $71 trillion in mobile payments, efforts to boost AI, and designation of Hong Kong as an offshore crypto center, how should the U.S respond?
Moderator: Yesha Yadav, Professor, Vanderbilt Law
Panelists:
Linda Lourie, Former Assistant Director for Research and Technology Security in the White House Office of Science and Technology Policy, WestExec
Sujit Raman, Chief Legal Officer, TRM Labs
Tomicah Tillemann, Policy Director, Haun Ventures
11:05 a.m. Break
11:20 a.m. Panel: Law, Technology, and Power: A Conversation with Global Entrepreneurs
Moderator: Omid Malekan, Professor, Columbia Business School
Panelists:
Daniel Goldsmith, Cofounder, Heights Labs
Evan Kohlmann, Founder, Cloudburst
Samridh Saluja, Cofounder, Guardrail
IIEL thanks Coinbase for its support of this event
—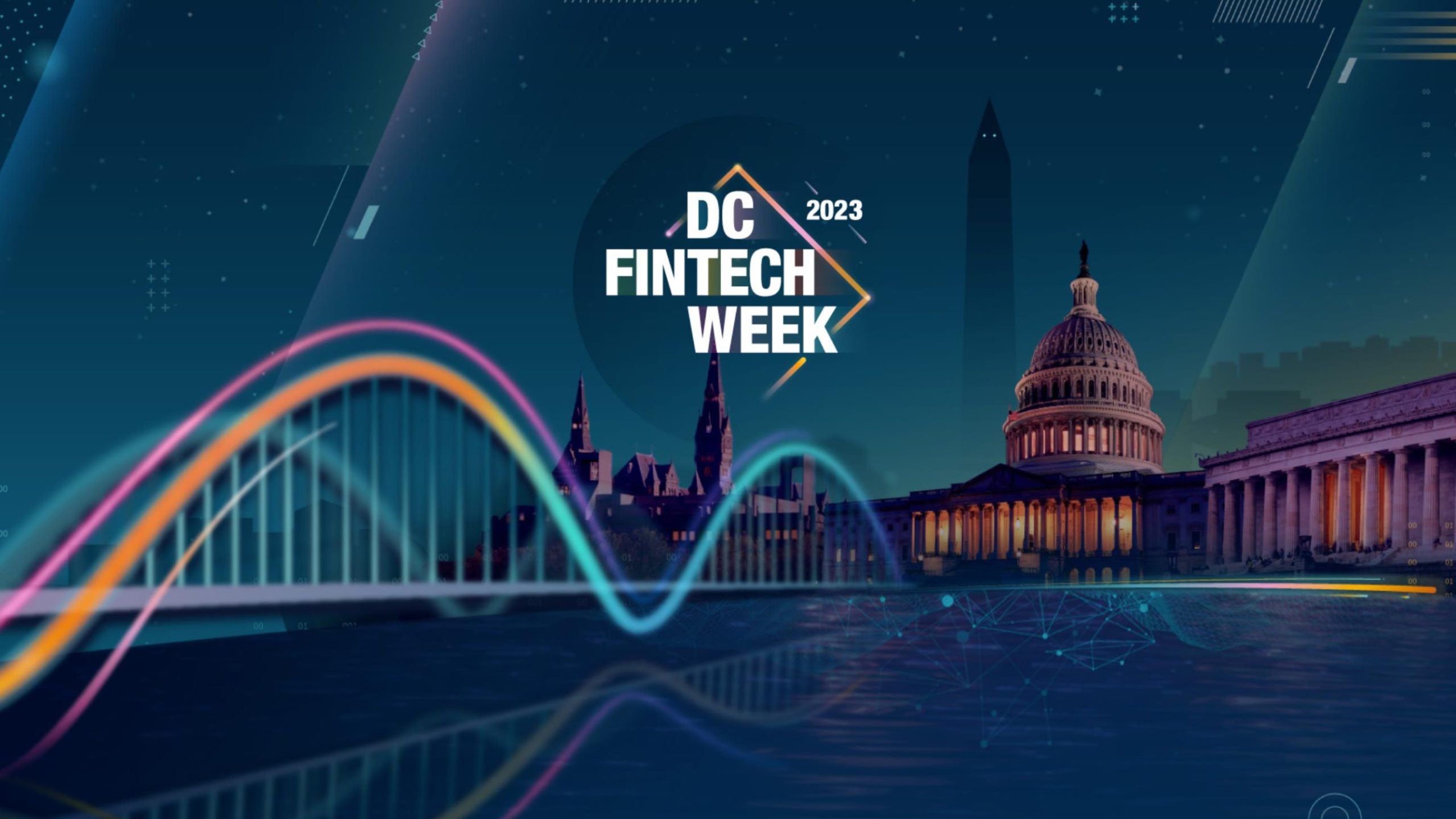 We are delighted to share that DC Fintech Week 2023 will take place on November 7 at Fannie Mae's spectacular Midtown Center facilities and on November 8 at the International Spy Museum. Our focus will include Generative AI, Payments and Banking, and Digital Assets. For those booking travel, it is useful to note that on November 6 a small bootcamp for regulators and practitioners will take place at the Georgetown University Law Center.
Every year DC Fintech Week convenes what is widely regarded as one of the most important financial technology policy forums in the world, something we would not be able to do without a diverse range of supporters from the public, private, and nonprofit sectors. And we have been delighted with the entrepreneurs, diplomats, academics, central bankers, regulators, and technologists who come to learn and share insights and best practices. We expect this year's to be our best event yet!
With that in mind, we are grateful to our co-hosts who are helping to make this event possible—Fannie Mae, Visa, Amazon Web Services (AWS) and the Crypto Council for Innovation. Additionally, we want to offer a big thanks to the Bank for International Settlements for once again serving as our Regulatory Co-Host.
As we do each year, the events for the week will be free to the public, and will be oversubscribed. So mark your calendars, and keep your eye out on the DC Fintech Week webpage for upcoming opportunities to RSVP, as well as for our Call for Papers for researchers!
With more to come,
Chris Brummer
Founder, DC Fintech Week
Agnes Williams Sesquicentennial Professor of Financial Technology
Director, Institute of International Economic Law
Georgetown University Law Center