Signature Events Overview
Georgetown boasts the largest array of international economic programming in the country, with the Institute of International Economic Law (IIEL) as the University's focal point.
As a result, few academic centers in the world can rival the opportunities provided by the Institute's constant intersection of academic scholarship and policymaking. We regularly convene stakeholder meetings, conferences, and executive training, bringing together public and private sector leaders across multiple areas of international economic law. Anchoring the Institute's constant evolution is a series of signature events, taking place annually alongside the center's weekly array of colloquia, speeches, workshops, and conferences.
Please find an overview of our Signature Events below.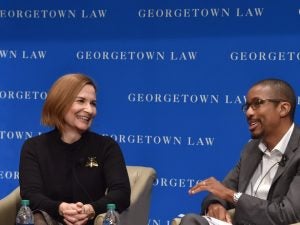 Ever since kicking off on the campus of Georgetown University Law Center in 2017, DC Fintech Week has had a simple objective: democratize information and allow everyone—from nonprofits and technologists to entrepreneurs and regulators—to engage in a meaningful dialogue about fintech and the future of finance. Thought leaders from fintech firms across the country describe their business, and explain how their services intersect with markets for a global audience consisting of policymakers, market participants, lawyers, and thought-leaders. Top regulators and lawmakers join the conversation to lend their unique perspectives to share with the audience.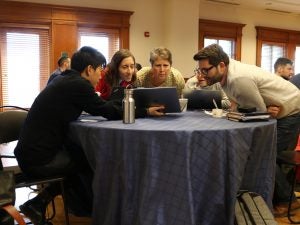 Our signature Executive Education program, the GTA is an indispensable week-long boot camp offering participants an unparalleled deep dive into the most salient and complex legal and policy issues in global trade today. Each year, GTA cohorts meet in a seminar-like atmosphere on the Georgetown Law campus to explore the past, present, and future of the global trading system, the legal foundations and constitutional underpinnings of the WTO. GTA faculty consists of leading global trade experts from Georgetown Law, governmental agencies, and the private sector who offer a deep dive into the most cutting-edge global trade issues of the day.