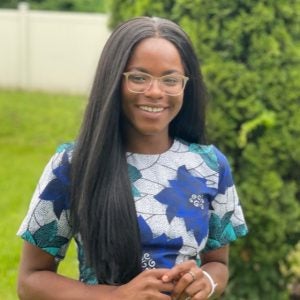 Born in Accra, Ghana but raised in Western Massachusetts, Bernice has always had a passion for international studies. An early interest in identity-based studies led her to design a multi-disciplinary bachelor's degree at the University of Massachusetts, Amherst—Political Economy of West Africa—and receive a Five College African Studies Certificate. During her college years, she was the co-president of Alliance for Afro-American Cultural Education and the African Union Vice Chair for the UMass Model United Nations conference, among other executive board member positions.
Before the start of her junior year studying abroad at the University of Ghana, Bernice interned at a top news station in Ghana with the Parliamentary Correspondents team. It was throughout this time that she strengthened her interest in economic development, governance structures, and African Studies. She also volunteered as a teacher's assistant at a local school and enjoyed teaching students about the history of colonization and the African independence era of the 1960s. Bernice wrapped up over a year of living in Ghana with a solo backpacking trip through the twelve coastal West African countries. These experiences gave her the opportunity to advance her French, Portuguese, Ga, and Twi language skills while introducing her to a number of other local African languages.
After graduating, she worked as a Bid Coordinator for a regional non-profit procurement consortium. When she is not planning an island trip, Bernice is obsessively taking care of her plants and redecorating her space. She has a strong interest in corporate law and government contracts, and hopes to build a career tied to sustainable economic development.