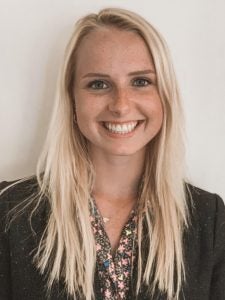 Emilie Kerstens is an LLM candidate and Merit Scholar studying International Business and Economic Law with a certificate in WTO and International Trade Studies at Georgetown University Law Center.
At Georgetown, Emilie is working on understanding the interdisciplinary nature of international economic law, by building her knowledge of international trade law and exploring its interrelationship with finance and development. She is currently a Research Assistant to Professor Katrin Kuhlmann and Professor Jennifer Hillman at the Center on Inclusive Trade and Development working on research surrounding gender, food security, climate change, and trade.
Before attending Georgetown, Emilie graduated cum laude from Maastricht University, where she obtained an LLM in International Law and an LLB in European Law with a specialization in business and law. During her studies at Maastricht University, she studied abroad at the University of Richmond in Virginia and the Universidade NOVA de Lisboa in Portugal. She wrote her Master's thesis on the application of the security exception under Article 73(b)(iii) TRIPS to Measures that Deny Patent Protection for COVID-19 Pharmaceuticals. Alongside her studies, Emilie taught courses on international business law, private international law, constitutional law, and legal argumentation to Bachelor European Law students at Maastricht University.
A dual citizen of Belgium and the Netherlands, Emilie grew up in Belgium and Washington DC before moving to the Netherlands, Portugal, and the United States for her legal education. She is bilingual in Dutch and English, with a working knowledge of French. Her three cats Winnie, Dipsy, and Ollie reside in Brussels with her family.