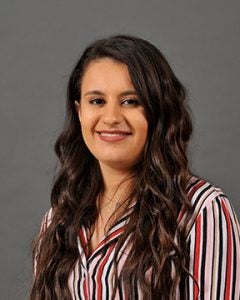 Eva Gabriel, Class of 2024, Areas of Interest: Renewable Energy/Project Finance/International Development
Eva Gabriel graduated magna cum laude from the University of California, San Diego in 2020, double majoring in Political Science and Urban Studies and Planning. Eva completed two comprehensive theses in undergrad. For her Political Science major, she researched The Role of Country of Origin on Immigrant Voting Behavior, concluding U.S. immigrants from autocracies are more likely to vote for Conservative and Republican candidates. For her Urban Studies and Planning major, she researched San Diego suburbs and proposed a transit-based public transportation system that would reduce greenhouse gas emissions in San Diego County.
After college, Eva worked in the transportation industry, specializing in autonomous, electric, and intelligent transportation systems. Eva hopes to build on this experience by joining the Renewable Energy practice group at a BigLaw firm to cost-efficiently finance international and domestic renewable energy projects. At Georgetown, Eva is an Opportunity and RISE Scholar. She serves as the Professional Development Chair of the Middle Eastern and North African Students Association (MENALSA) and hopes to increase Middle Eastern, North African, and diverse attorneys in the legal field.