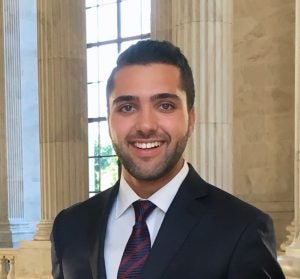 John Farah is a Georgetown Law Opportunity Scholar, President of the Arab Law Students Association, and a Student Bar Association Delegate. He graduated cum laude from American University in 2016 with an interdisciplinary degree in Communication, Legal Institutions, Economics, and Government.
During law school, John has interned and externed for the American Bar Association Rule of Law Initiative. Before law school, he founded his own paralegal services company. John was selected as a Lloyd Meeds Policy Fellow by the international law firm K&L Gates LLP in 2015.
As an undergraduate, John served as a legislative intern in the Senate and House of Representatives. He has an interest in international trade, project finance, and public policy. A Michigan native, John enjoys traveling and has visited nearly 40 countries.