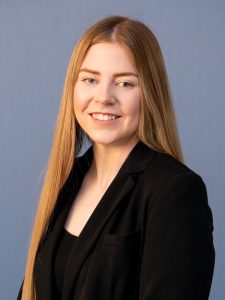 Katrina Redmon is pursuing her J.D. as a second-year student at Georgetown University Law Center. Katrina graduated summa cum laude from Arizona State University, earning degrees in Business with a focus in law and Management, with a minor in Political Science. During her time at ASU, she focused her coursework on international relations and business and worked as a program assistant for a grant and research consultant.
Following her first year of law school, Katrina externed at the U.S. Attorney's Office, where she worked on cases including cross-border matters and extradition. She is interested in the intersection of economics, law, and international relations. Katrina looks forward to gaining more knowledge and experience in international trade and globalization.
Katrina enjoys landscape photography, running, archery, and scuba diving.