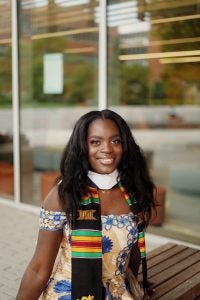 Kelly graduated magna cum laude from Drexel University in 2022, earning a degree in Political Science and a minor in Philosophy. Kelly's studies involved significant coursework in comparative politics, international law, foreign policy, diplomacy, international development, and gender studies. At Drexel, Kelly elected to complete research papers and projects about globalization and foreign aid. She produced a research design that would ascertain the effectiveness of international organizations and foreign aid in the Global South.
In 2021, Kelly studied abroad through an intensive Drexel course abroad that took place in Berlin, Germany at the Berlin School of Economics and Law. The course focused on the business of sustainability and explored topics such as the economics of sustainability, financing climate issues, and the implementation of the United Nations' Sustainable Development Goals. The experience heightened Kelly's awareness regarding international economic policy, global legal frameworks, and the importance of global cooperation. She looks forward to the Institute's programming regarding sovereign debt and development.
Before starting law school, Kelly worked as a paralegal at a nonprofit organization that assisted low-income individuals in receiving pardons and criminal expungements. At Georgetown, Kelly serves as a member of the Recruitment and Retention Committee of the Black Law Student Association. She is also a RISE Fellow and Student Ambassador. In her free time, she enjoys playing musical instruments and traveling.