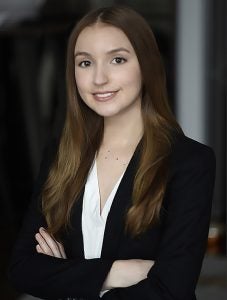 Before attending Georgetown University Law Center, Megan Stormberg earned her B.A. in Economics and Political Science from Wellesley College. She has several years of work experience in the public and private sectors. At J.P. Morgan Securities, she managed investment accounts for high-net-worth individuals in New York City. She also served as a legislative intern for U.S. Senator Dianne Feinstein in Washington, D.C., where her work consisted primarily of economics- and narcotics trafficking-related research relevant to the state of California.
Megan began her legal career at Tulane University, where she gained exposure to civil law and studied abroad at the Aegean Institute of Maritime Law and Law of the Sea. She has served as an employment law clerk for Schor, Vogelzang, and Chung, LLP, and as an immigration law clerk for MalitzLaw, Inc. in San Diego.
Next summer, Megan will return to New York City to work for Jones Day. She maintains a strong interest in Fintech, International Trade, and Globalization.