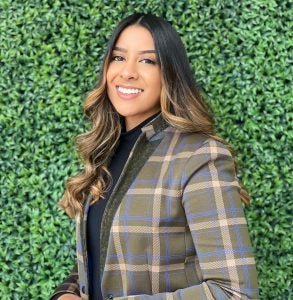 Originally from sunny Miami, Florida, Michelle Rosario is a third-year law student at the Georgetown University Law Center, focusing on international trade and economics. Upon graduation, Michelle looks forward to joining the International Trade Practice Group at Barnes and Thornburg, LLP, as a first-year associate in Washington, DC. Michelle currently serves as a Law Clerk for Barnes and Thornburg, focusing on export controls, trade remedies, and customs enforcement.
Throughout the academic year, Michelle is highly involved in trade-related studies and extracurriculars. In addition to the IIEL Fellowship, Michelle is in pursuit of Georgetown's Certificate in WTO and International Trade Studies and has been selected to represent Georgetown at the John H. Jackson WTO Moot Court Competition hosted in Puerto Vallarta, Mexico and Geneva, Switzerland. In the Spring of 2022, Michelle deepened her understanding of trade policy while externing at the Global Markets Office in the Commerce Department's International Trade Administration.
Michelle is also an editor for the Georgetown Journal of Law and Public Policy, a 3L Delegate for Georgetown's Student Bar Association, and a Director on the Executive Board for the Appellate Advocacy Division of Georgetown's Barristers' Council.
Prior to law school, Michelle taught International Law and Model United Nations at the Florida International University (FIU) from 2018-2020. In 2018, Michelle obtained her B.A. from FIU, graduating cum laude with majors in Political Science and Philosophy. During her time at FIU, Michelle also pursued minors in International Relations and English, as well as a Certificate in National Security.
Outside of her academic studies, Michelle is an aerial dancer, dining enthusiast, and fiction novel lover.