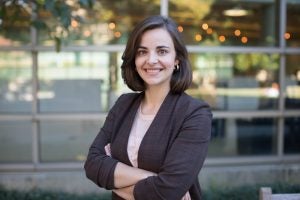 Sonia Geba graduated magna cum laude from Brown University in 2017 with a degree in History. She grew up in a multilingual immigrant home, speaking English, Spanish, and Ukrainian. In college, she discovered her passion for poverty alleviation and human rights when she participated in an independent study focused on housing insecurity and homelessness in Providence, RI. Working directly with individuals who had experienced housing insecurity inspired her to embark on an early career providing direct services to low-income individuals and families in New York City at Advocates for Children of New York. After two years as a special education advocate, focused on educational development among immigrant youth and kids in foster care, she moved to Ukraine to learn about international educational development and serve as a teacher.
In the fall of 2019, Sonia embarked on a Fulbright scholarship to teach English at Petro Mohyla Black Sea National University in southern Ukraine. Teaching in the former ship-building center of the Soviet Union introduced her to life in a transitioning economy and motivated her to examine the economic structures that affect community development around the world. Following her grant, Sonia completed advanced coursework in development economics through MIT's MicroMasters program in Data, Economics, and Development Policy, which she hopes to integrate into her legal studies.
Since the start of law school, Sonia has been exploring dual interests in economic development and immigration and refugee law, interning at ABA – South Texas Pro Bono Asylum Representation Project (ProBAR) on the U.S.-Mexico border and serving as the Legal Director of Georgetown's Chapter of the International Refugee Assistance Project. As a 2L Global Law Scholars Research Project Leader, she researches sanctions and expropriation policies and international compensation mechanisms for displaced persons and countries disrupted by conflict. She is also a Research Assistant with the Ukraine Justice Project at Georgetown's Center on National Security. As an aspiring human rights attorney focused on displacement and transitional justice, she is eager to develop a skillset rooted in a rigorous understanding of international economic law and the sweeping impact that effective international development and trade policies can have on poor populations on a global scale, especially the displaced.
Sonia is fluent in Spanish and proficient in Russian, Ukrainian, and French. At Georgetown, she is also a Global Law Scholar and Blume Public Interest Scholar.