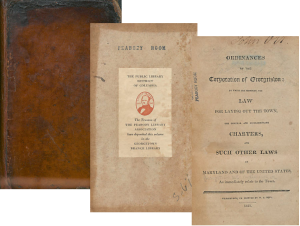 Georgetown was founded in 1751 in the Province of Maryland, and the port of Georgetown predated the establishment of the federal district and the City of Washington by 40 years. Georgetown remained a separate municipality until 1871 when the United States Congress created a new consolidated government for the whole District of Columbia. A separate act passed in 1895 specifically repealed Georgetown's remaining local ordinances and renamed Georgetown's streets to conform with those in the City of Washington.
This collection contains locally published ordinances, or laws and decrees for Georgetown, prior to 1871. The originals are located in the Peabody Room of the Georgetown Branch of the DC Public Library, and were digitized at the Georgetown Law Library as part of a cooperative project. The collection also contains select ordinance years that were downloaded from the Internet Archive because the original is not in the DC Public Library collection.
Go to the Georgetown Ordinances collection.