Legal Information Archive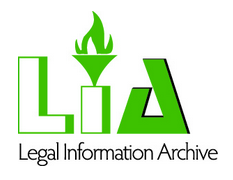 The Legal Information Archive is a collaborative digital archive established to preserve and ensure permanent access to vital legal information published online.
The genesis of the collection consists of materials gathered by the Chesapeake Digital Preservation Project, a collaboration between Georgetown University Law Library, the Maryland Thurgood Marshall State Law Library, the Virginia State Law Library, and Harvard University Law Library. These materials feature government, policy, and legal information archived primarily from the Web.
The Georgetown Law Library collection in the Legal Information Archive consists of secondary legal sources, such as reports and studies from commissions, task forces, agencies, organizations, scholarly societies, and lobbying groups. The library's collections are primarily topical and thematic, based on research and educational areas of interest at the Law Center. Additional collection areas include law-related publications produced by and about the District of Columbia, and select high interest reports and studies produced by federal commissions.
Go to the Legal Information Archive.