Law Center Archives
The mission of the Law Center Archives is to collect, preserve and provide access to records with permanent value for purposes such as documenting the history of the Law Center, from its founding in 1870 to the present.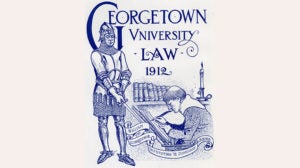 The archives includes a variety of resources to help you explore people and events associated with Georgetown Law Center, including:
Student newspapers, such as Georgetown Law Weekly and the original Res Ipsa Loquitur
Other periodicals such as the Alumni Office Georgetown Law (Res Ipsa Loquitur)
Law Center yearbooks and facebooks
Annual bulletins and commencement programs
Photograph collection, with images of people, buildings, events, and student groups
Audio-Visual collection with sound and video recordings of lectures and public programs
Student-run law journals
Selected theses and dissertations
Records of Law Center student groups
Many of these have been digitized and are available in Digital Georgetown.
Services for Law Center Offices
When records of permanent historical, administrative, fiscal and/or legal value are transferred to the Law Center Archives, the staff can provide safe and secure storage, quick retrieval when needed, and assistance with information or research requests.
The archives staff is available to help Law Center offices identify records of permanent value for transfer to the Law Center Archives.