Law Center Archives
The mission of the Georgetown University Law Center Archives is to preserve and provide access to records documenting the school's history.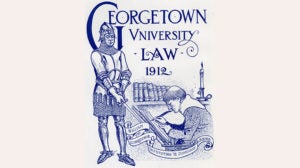 Trying to remember who was in your first year section? Want to know more about Law Center alumni/ae in your family or community? Need an image for a class or group reunion? There are many resources available through the Library and the Law Center Archives to help you explore people and events associated with Georgetown Law.
If you are looking for information about a Law Center event or group, the Archives has copies of the Res Ipsa Loquitor and other student newspapers, class yearbooks, photographs, programs, and assorted items relating to various campus groups and events, such as the Georgetown Gilbert & Sullivan Society.
The materials include the Georgetown Law School catalogs from 1870, yearbooks and other picture books, all of the Georgetown law journals, newspapers and other official publications, and law school alumni registers. They also include images from 1870 to the present, in a variety of formats. Other materials include records and documents from various Law Center departments, official reports to and from AALS, ABA and the University, audio-visual and electronic records, and materials documenting lectures, events, and graduation ceremonies.
Digital Collections:  The Law Center Archives has made available several collections online.  Georgetown Yearbooks, some of the Journals, selected photographs, and Bulletins.
Access and Use
The Archives Collection is available for use by the Law Center and Georgetown University communities, as well as by independent researchers and scholars. The Archives Collection is part of the Special Collections Department in the Georgetown Law Library and is located on the second floor of the Edward Bennett Williams Law Library, Room 210.
Policies for Use
The Archives Collection is an historical collection; much of it is fragile and one of a kind. Therefore, researchers must observe rules for accessing and handling materials. Upon entering Special Collections, researchers must sign-in. Personal belongings including bags, purses, and coats must be stored away from materials. Only pencils and laptops are allowed in the research area. Photocopy and digital scanning services are provided under certain conditions. A complete list of policies will be provided to all researchers.