National Equal Justice Library
The National Equal Justice Library (NEJL) is the first and only institution dedicated to documenting and preserving the legal profession's history of providing counsel for those unable to afford it.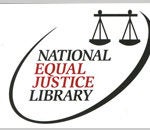 The idea of the NEJL was first introduced in 1988 by Justice Earl Johnson, Jr., a judge on the California Court of Appeals, at a meeting of the Board of the National Legal Aid Defender Association (NLADA) of which he was a member.
The importance of such a repository was driven home when it was discovered that the papers of Clara Shortridge Foltz, credited with founding the public defender system in the United States and the first woman lawyer in the western states, were destroyed by her family who did not realize the papers' historic significance.
Four major organizations — the American Bar Association (ABA), the National Legal Aid and Defender Association (NLADA), the Association of American Law Schools (AALS), and the American Association of Law Libraries (AALL), joined together to form a Joint Exploratory Committee to develop the project. This led to the formation of a non-profit corporation, the Consortium for the National Equal Justice Library, Inc. (CNEJL), which met for the first time on October 21, 1989. In 1991, the Consortium chose the library at the Washington College of Law at American University to house the new collection and held its grand opening in September 1997.
Nine years later, the NEJL was acquired by the Georgetown University Law Library where it will continue to be an invaluable resource to lawyers, law students and other researchers interested in the rich history of legal services to the poor.
Finding Aids
The National Equal Justice Library finding aid collection is accessible through the Digital Georgetown website.
If you have problems or questions, please contact the NEJL at lawspecl@georgetown.edu or (202) 662-9133.
Policies
Access
The NEJL's welcomes all researchers to use our unique collections and resources. The NEJL is part of the Special Collections department in the Georgetown Law Library and is located on the first floor of the Edward Bennett Williams Library.
Rules for Use
The NEJL is an archival collection; much of it is fragile and one of a kind. Therefore, researchers must observe rules for accessing and handling material. Upon entering the NEJL, please sign in and register before beginning your research. You will also be asked to stow away your personal belongings including bags, purses, and coats. Only pencils and laptops will be allowed in the research area. All photocopies will be completed by staff. Digital photographs will be allowed only by permission of the Archivist. A complete list of rules will be provided when you register.
Links