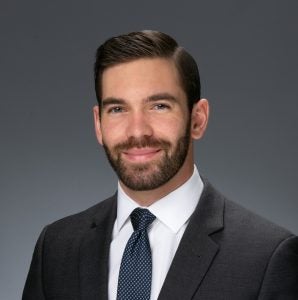 Jon is a current Georgetown Law 2L, and a member of the Alternative Dispute Resolution team. He also serves on the executive board of the Georgetown Jewish Law Students Association and the editorial board of the Georgetown Journal of Law and Public Policy.
Prior to entering law school, Jon served for four years as an infantry officer in the 101st Airborne Division, United States Army. He led Soldiers at several different levels and was responsible for planning and executing their training to ensure readiness to serve abroad. Jon deployed to Iraq in 2016 as part of Operation Inherent Resolve, and acted in an advisory and liaison role to Iraqi forces as they reclaimed Mosul.
Jon is interested in the intersection of business and law, and hopes to pursue a corporate practice in New York or Washington after graduating. He enjoys playing softball, rock climbing, and playing guitar.
Vanderbilt University, B.A. in Political Science, 2015
Georgetown University, J.D. expected 2022