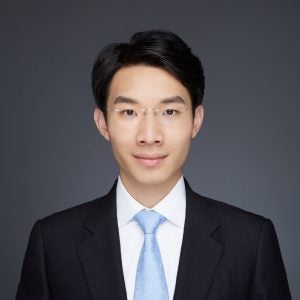 Junru is a second-year student in Cohort 3 of Business Law Scholars at Georgetown Law. He is a prospective staff member of The Georgetown Journal of International Law, a member of the Georgetown International Law Association, and a member of the Asian Pacific American Law Student Association (APALSA).
Junru completed his undergraduate degree at Shandong University School of Law, where he obtained an LL.B. degree. He participated in an exchange program with Leiden Law School in the Netherlands, where he took courses in E.U. law and international law. During undergrad, he participated in Jessup International Law Moot Court Competition and won the Best Oralist at China's domestic round. He also worked with the Ministry of Foreign Affairs of China assisting in drafting several policy papers.
During his 1L summer, Junru conducted research for the FSIA on sovereign immunity law & regulations in the United States, which resulted in a working paper.
Besides his interests in International Law and regulatory practice, Junru is also passionate about commercial and financial law and regulations. He interned at the banking and finance group at Allen & Overy Beijing Office in 2018 summer, engaged in aviation financing and project financing deals.
Junru was born and lived in China prior to his enrollment at Georgetown Law, with Mandarin as his native language. He enjoys classical music, musicals, and grew up playing piano.
Shandong University, LL.B., Law, 2019
Leiden University, Exchange Semester (with Erasmus+ Scholarship), 2019 
Georgetown University Law Center, J.D. Candidate, 2022 (expected)