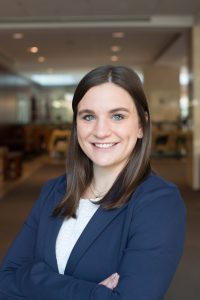 Katie is a current Georgetown Law student in Cohort 3 of the Business Law Scholars Program. At Georgetown, she is a Research Assistant for Professor Anthony Cook and a staff editor of the Georgetown Journal of Law & Modern Critical Race Perspectives.
Katie started law school immediately following her graduation from The University of Alabama where she graduated summa cum laude with a Bachelor of Science in Commerce and Business Administration.
Katie spent her undergraduate summers interning with the Federal Reserve Bank of Kansas City and Commerce Bank's legal department. She spent her 1L summer conducting research and developing class curriculum in community development and systemic racism with Professor Cook. She also served as a Research Assistant for the Georgetown Law Journal Annual Review of Criminal Procedure. Katie looks forward to pursuing an externship in the Spring of her 2L year.
Katie is originally from Overland Park, Kansas and plans to pursue a career in corporate law in Washington, DC. She enjoys running, triathlon training, reading, and spending time with friends and family. She is also still celebrating the Kansas City Chiefs Super Bowl win!
The University of Alabama, Bachelor of Science summa cum laude, Commerce and Business Administration, 2019
Georgetown Law, JD expected, 2022