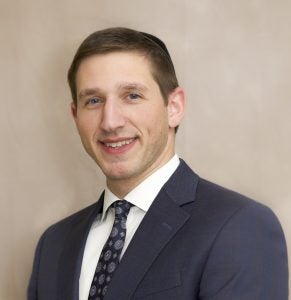 Shlomo is a 3L at Georgetown Law. In addition to being a Business Law Scholar, Shlomo is a Staff Editor for the Georgetown Food and Drug Law Journal.
This past summer, Shlomo was a summer associate at Willkie, Farr & Gallagher in New York. During his 1L summer, he worked for the Maryland Office of the Attorney General, Department of Housing and Community Development. Prior to law school, Shlomo interned for Hain Capital Group, a bankruptcy trade claims investment firm.
Shlomo grew up in suburban New York. He enjoys hiking in national parks, ice hockey, and spending time with his wife and child.
Rabbinical Academy Mesivta Rabbi Chaim Berlin, First Talmudic Degree, Talmudic Studies, 2018
Georgetown Law, JD, expected, 2022