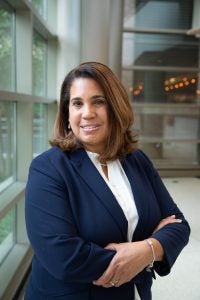 Associate Professor of Law, Legal Practice
Sherri Lee Keene
B.A., Spelman College; J.D., New York University
Areas of Expertise:
Professor Keene was previously a Law School Professor and Director of the Legal Writing Program at the University of Maryland Carey School of Law. She also taught at George Washington University Law School as an adjunct legal writing professor and visited at Georgetown University Law Center during the 2017-18 school year.
Before she began teaching full-time, Prof. Keene litigated as a staff attorney for the Federal Public Defender's Office for the District of Maryland. At the FPD's Office, Prof. Keene drafted trial motions on complex legal issues and represented clients in appeals before the U.S. Fourth Circuit Court of Appeals. Before she worked in criminal defense, Prof. Keene was a litigation associate in private practice at Paul, Weiss, Rifkind, Wharton & Garrison in New York City and a civil trial attorney for the U.S. Department of Justice Civil Division in Washington D.C. Immediately upon completing law school, Prof. Keene clerked for Chief Judge James T. Giles of the U.S. District Court for the Eastern District of Pennsylvania.
Prof. Keene is an active member of the national legal writing professor community. She participates as an editor for the peer review journal, Legal Communication & Rhetoric: JALWD. In 2018, she was selected to be a Distinguished Speaker by the Association of Legal Writing Directors (ALWD). She has served as a planning chair for national and regional legal writing conferences and workshops for practitioners.
Prof. Keene has published scholarship relevant to her work as a legal professor and advocate. She writes in the areas of legal advocacy, criminal law, and law school reform. Prof. Keene's recent work is at the intersection of criminal law, advocacy, and psychology, and she considers how unconscious cognitive shortcuts can influence a police officer's perception of a suspect's behaviors. Her work discusses how seemingly neutral legal structures can mask, and even reinforce, a police officer's biased thinking and subsequent decision-making, rather than afford opportunities for them to be recognized and addressed effectively in the courtroom.
Contributions to Law Reviews and Other Scholarly Journals
Selected Contributions to Other Publications
Sha-Shana Crichton & Sherri Lee Keene,
Sha-Shana and Sherri's Secret Sauce for Super Busy Scholars
, 1
Proceedings
, no. 3, 2022, at 12-20.
[
WWW
]
Book Chapters & Collected Works
Sherri Keene,
Lessons Learned from Incorporating Legal Writing into a Criminal Law Course
,
in
Lawyering Skills in the Doctrinal Classroom: Using Legal Writing Pedagogy to Enhance Teaching Across the Law School Curriculum
125-136 (Tammy Pettinato Oltz ed., Durham, N.C.: Carolina Academic Press 2021).