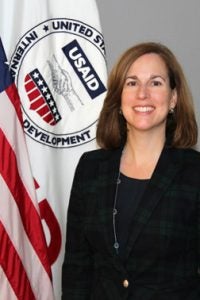 Senior Advisor, Office of the General Counsel, U.S. Agency for International Development; Distinguished Development Diplomat in Residence & Visiting Professor , O'Neill Institute for National and Global Health Law, Georgetown Law; Adjunct Professor of Law
Susan K. Pascocello
B.A., University of Virginia; J.D., Georgetown University Law Center
Susan Keller Pascocello is a Distinguished Development Diplomat in Residence and Visiting Professor with the O'Neill Institute at Georgetown Law. Ms. Pascocello, a member of the Senior Executive Service at the U.S. Agency for International Development (USAID), is leading a public-private partnership with O'Neill that establishes the International Development Law Initiative. USAID is the U.S. Government's international development agency which has 10,000 employees and administers a budget of over $20 billion.
Ms. Pascocello four times served as Acting General Counsel for USAID during her time as Senior Deputy General Counsel from 2012-2019. Ms. Pascocello led a team of over 110 attorneys located in Washington, D.C. and more than 35 missions around the world. She led USAID/GC to receive the American Bar Association's Hodson Award for public service in 2016 and the District of Columbia Bar Association's Belfiore Quality of Life Award in 2015. A member of the Senior Executive Service since 2006, Ms. Pascocello received a Senior Executive Service Distinguished Presidential Rank Award in 2015 and a Meritorious Presidential Rank Award in 2010.
At USAID, she also served as the Assistant General Counsel for the Economic Growth, Education and the Environment, Global Health, and Food Security Bureaus. Prior to joining USAID in 2000, Ms. Pascocello worked in the area of securities market development as Senior Counsel in the Office of International Affairs and the Division of Investment Management at the U.S. Securities and Exchange Commission. She was in private practice with Dechert, Price & Rhoads in Washington, D.C. and Curtis, Mallet- Prevost in New York.
Ms. Pascocello has been a member of Georgetown's Law Alumni Board since 2016 and has served on various non-profit boards. She received a Bachelor of Arts degree from the University of Virginia. She received a Juris Doctor, cum laude, from Georgetown University Law Center and is admitted to the Bars of New York, Connecticut, and Washington, D.C.