HRI Deputy Director Michelle Liu travels to Guantánamo to observe proceedings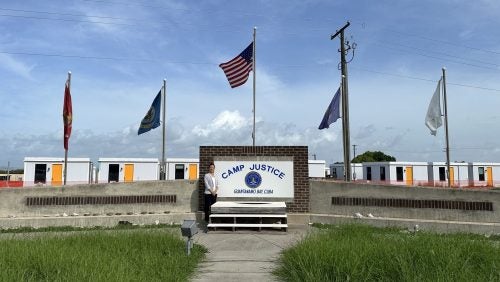 Last week, HRI Deputy Director Michelle Liu traveled to Cuba as part of the Guantánamo Observers Program run by the Georgetown Center on National Security.
On the docket at the Military Commission was a pre-sentencing hearing for Mr. Nashwan al-Tamir (aka Abd al-Hadi al-Iraqi), a disabled Iraqi prisoner in his 60s who was captured in Turkey in 2006 and rendered to a black site by the CIA. He was transferred to Guantánamo Bay in 2007 and was held there without charge for seven years. Mr. al-Tamir pleaded guilty to war crimes in 2022 and is awaiting sentencing and possible transfer to a third country.
"Observing the hearings in person afforded me the opportunity to better understand some of the human rights allegations that have plagued the facility since its inception," said Michelle Liu. "The experiences of observing the hearings during the week, talking to defense counsel and media, and seeing Camp X-Ray in person—albeit from afar—were incredibly eye-opening and compelling."
In 2002 following the September 11th terrorist attacks, the naval base at Guantánamo Bay was converted to a detention facility for suspected terrorists; over the years, the U.S. detained 780 non-U.S. citizens there who the government claimed had ties to Al-Qaeda or had engaged in terrorist activities against the United States. Today, 32 detainees remain. 17 have never been charged with any crime and are approved for release, but they remain in detention while the U.S. looks for third countries willing to accept them.
The United States has committed serious and grotesque human rights violations against former and current detainees: extraordinary rendition and prolonged detention without charge (e.g. Binyam Mohamed), denial of proper medical care for aging detainees with disabilities (e.g. Nashwan al-Tamir), and physical and psychological torture (e.g. Majid Khan).
Last year, on the 20th anniversary of the arrival of the first detainees, a group of experts appointed by the U.N. Human Rights Council, including Fionnuala Ní Aoláin, the Special Rapporteur on the promotion and protection of human rights while countering terrorism, denounced the facility as a site of "unparalleled notoriety" and called on the U.S. to "close this ugly chapter of unrelenting human rights violations." In May of this year, the U.N. Working Group on Arbitrary Detention implicated the United States and seven other countries for the CIA's "torture and cruel, inhuman or degrading treatment" of Abd al-Rahim al-Nashiri, a prisoner who is awaiting his capital trial at the detention center and whose latest hearings began this week. HRI Executive Director Elisa Massimino's recent op-ed on CNN.com called Guantánamo "America's cage" and said that the detention operations are "a moral, legal, strategic, and financial sinkhole for our country."
"The experience was a stark reminder that the human rights challenges and impacts affecting Guantánamo detainees, and indeed ex-detainees, persist," said Liu. "As advocates for the rule of law and human rights, it is imperative that we keep up the pressure on this presidential administration to support the final resolution of the remaining cases, shut down the military commissions and detention facility, and foreclose to future administrations the possibility of having a wartime prison where terrorism suspects could be interrogated, tortured, and held without trial."
The Guantánamo Observers Program is a joint program between the Human Rights Institute and the Center on National Security. Students interested in participating as an observer should reach out to Professor Todd Huntley with the Center on National Security.