Georgetown Law's Human Rights Institute partners with Nobel laureate to pursue justice for Yazidi community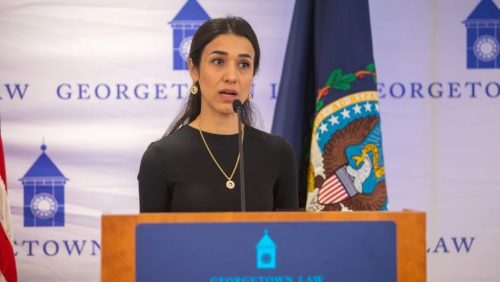 Last January, Alexis Shanes, L'24, found herself in Erbil, a city in Northern Iraq. "It was the most astonishing experience, one I never thought I would be able to have in law school," she said.
Shanes was one of a dozen students in Georgetown Law's Human Rights Institute (HRI)'s Human Rights Advocacy in Action Practicum, where every academic year students get a chance to work firsthand practicing human rights law. In last year's practicum, HRI partnered with Nadia's Initiative, an organization founded by 2018 Nobel Peace Prize Laureate Nadia Murad, a survivor of the Islamic State's genocidal attack on the Yazidis of Sinjar, an area in northwestern Iraq near Syria.
Students became well versed in the challenges the Yazidis face as they seek to rebuild their homeland and achieve a measure of justice. They learned about the sensitive nature of handling cases of conflict-related sexual violence, the focus of HRI's 2023 Samuel Dash Conference on Human Rights. And they traveled abroad for fieldwork just before the second semester began – some to Iraq and others to Europe.
Read the story here.