Georgetown Law's Human Rights Institute Partners with Nobel Laureate to Pursue Justice for Yazidi Community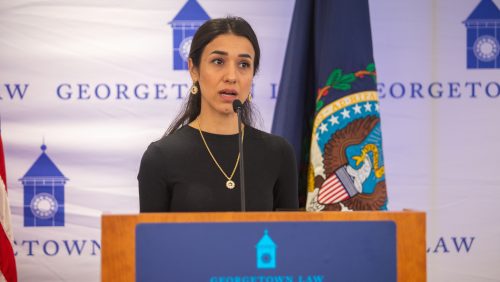 Last January, Alexis Shanes, L'24, found herself in Erbil, a city in Northern Iraq. "It was the most astonishing experience, one I never thought I would be able to have in law school," she said.
Shanes was one of a dozen students in Georgetown Law's Human Rights Institute (HRI)'s Human Rights Advocacy in Action Practicum, where every academic year students get a chance to work firsthand practicing human rights law. In last year's practicum, HRI partnered with Nadia's Initiative, an organization founded by 2018 Nobel Peace Prize Laureate Nadia Murad, a survivor of the Islamic State's genocidal attack on the Yazidis of Sinjar, an area in northwestern Iraq near Syria.
Students became well versed in the challenges the Yazidis face as they seek to rebuild their homeland and achieve a measure of justice. They learned about the sensitive nature of handling cases of conflict-related sexual violence, the focus of HRI's 2023 Samuel Dash Conference on Human Rights. And they traveled abroad for fieldwork just before the second semester began – some to Iraq and others to Europe.
JUSTICE FOR THE YAZIDIS
A decade ago, Nadia Murad was a student who knew little of the world outside her family farm. Then in August 2014, ISIS militants attacked Yazidi communities in Sinjar. They executed more than 5,000 men and older women – including Murad's mother and six of her brothers and stepbrothers. They took more than 6,000 young women and girls into captivity to be treated as sex slaves – including Murad herself.
Once Murad escaped, she resolved to speak out. Even after a Nobel Prize, a bestselling memoir and hundreds of international speeches, it isn't easy for her to do.
"It was, and still is, difficult to share my traumatic experiences with the world. But if people aren't reminded of what occurred, then they won't take action," said Murad during her keynote address at the Dash Conference in April.
The leaders and students in the HRI practicum were committed to taking action. But what difference could they make during a single academic year? Half of the 400,000 people displaced from Sinjar in 2014 have not yet gone home, and those who have returned found an infrastructure and economy in ruins. Thousands of women struggle with the trauma and societal stigma of the sexual violence and abuse they suffered in captivity.
"As human rights lawyers, our job is not just to examine a problem; it's to find practical, sustainable solutions," said Michelle Liu, HRI Deputy Director and a professor in the practicum. "Our practicum course put students to work doing just that — devising strategies grounded in human rights law and informed by survivors' needs."
Co-teacher and HRI Dash-Muse Senior Teaching Fellow Catherine Cooper added, "We know from experience that effective human rights advocacy is built on partnership with affected communities and places survivors' voices and needs front and center."
Over the course of the year, the practicum students focused on three ways Nadia's Initiative could use law and policy to further the Yazidis' cause. One team looked into whether the International Criminal Court in The Hague or a new hybrid court in or outside of Iraq could be appropriate venues for prosecuting the Islamic State – and how such courts should incorporate survivors' priorities and perspectives. A second team helped to identify ways to strengthen U.S. government support for the Yazidi community, including through development aid in Sinjar, as well as legal reform to hold perpetrators accountable for genocide and crimes against humanity in the United States. A third focused on the rights of Yazidi women who suffered ISIS captivity and children born as a result of conflict-related sexual violence, many of whom lack the legal documentation they need to grow up as full citizens in their mothers' homeland.
Each project was extremely complex. Nicolas Friedlich, L'24, who worked on the strategy for U.S. aid, said that he and his classmates interacted with United States Agency for International Development and State Department staffers, private development contractors, NGO leaders, Kurdish ministers and more.
"You hear the same problem addressed from such different perspectives that you wonder, are we even talking about the same thing?" said Friedlich. "But then we had the wisdom of our professors to say, 'OK, how do we use this to give the Nadia's Initiative leadership the best advice?'"
PLANTING SEEDS FOR THE FUTURE
Anyone who's worked in human rights law can tell you that achieving a goal quickly is unlikely. But the practicum's work is sure to have benefits for years to come, both for the Yazidi community and for the students who'll soon be full-fledged lawyers.
"Nadia's Initiative sees the fight for justice as existential, both for Yazidi survival and communal healing," said a spokesperson for the organization. "We want to see the ISIS militants who sought to eradicate our community, through mass murder and sexual violence, held accountable for their actions. We are hopeful that the Human Rights Institute's expertise and influence — and the outstanding work done by the practicum students — will help promote real change for our community."
Looking back over her year in the practicum, Alexis Shanes, who was part of the team working on the rights of conflict-related sexual violence survivors and their children, said, "I can't tell you that we won a court case or won over a lawmaker. But I take a lot of comfort in knowing that we were able to provide the organizations on the ground with legal advocacy guidelines they can put into place when the time is right." Shanes worked this summer at Robert F. Kennedy Human Rights and is considering a career in diplomacy or academia, centered on women's and children's rights.
Nicolas Friedlich, who spent the summer at the firm Clifford Chance, hopes that after graduating he can continue to work at the intersection of business and human rights law. He said that the lessons he learned about synthesizing multiple perspectives and staying open to change will guide him going forward.
"There's a real ebb and flow to human rights work. Professor Massimino's mantra was always: 'You have to live to fight another day,'" he said.
And this fall, another set of students took on another cause. For the 2023-2024 academic year, the HRI practicum is focusing on justice and accountability for victims of human rights violations in Egypt, partnering with the Tahrir Institute for Middle East Policy and the Freedom Initiative to support efforts to hold abusers to account through innovative tactics.
"Today's human rights problems are urgent and complex, and the world needs passionate, innovative advocates with the intellectual foundation, real-world experience and practical skills necessary to tackle them," said HRI's Executive Director Elisa Massimino. "That's why I came to Georgetown – to help prepare the next generation of human rights lawyers to meet those challenges."
Video from all sessions of the 2023 Dash Conference on conflict-related sexual violence (CRSV), including Murad's keynote address and panel discussions on survivor-centered approaches to justice, the documentary film "The Prosecutors," the experiences of LGBTQ+ and male CSRV survivors and tools for preventing CSRV, is available here.
For more information on experiential learning at Georgetown Law through practicums, clinics and externships, click here.