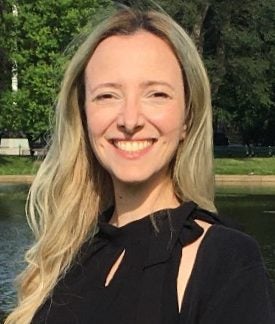 Dr. Aline Bertolin is the Institute of International Economic Law's (IIEL) Postgraduate Research Fellow focusing in Global and International Trade and Development. She is a former Max Weber Fellow at the European University Institute and a former Visiting Fellow Scholar at Columbia University. A PhD in Law from Université Panthèon-Sorbonne and a IBEL LLM graduate from Georgetown Law, she specializes in Law & Development, having been the first formal graduate in this interdisciplinary field.
Dr. Bertolin's PhD dissertation defined the concept of preventive regulation departing from an approach of History of Economic Thought to regulation and strategic intelligence, carving a means to narrow down the democratic gap in economic governance through government liability over markets and to innovate in legal designs to deter crisis and economic abuse; an achievement rewarded with a nomination for the Prix de thèse de La Chancellerie des Universités de Paris in Law and Political Sciences, and an award by the Alban Prize from the European Commission.
At IIEL, Dr. Bertolin will work closely and under the supervision of IIEL Professor Katrin Kuhlmann to contribute to the latter longtime scholarship on Trade and Development. She will contribute with deepening the understanding of regulatory designs that entice migration, sustainable trade, integrative development and economic dignity, or reversely foster economic privileges and answer for social grievances and the boxing in of populations within nation-States' discursive space.
Dr. Bertolin has held diverse positions in public government in Europe and Brazil; she has also been a prolific field research scholar and a volunteer in non-profits which inspired her to co-found the Na'iman Safe Haven Initiative. Her research specialism benefited greatly from delving into comparative analysis in the field in different centers, namely La Societé de Legislation Comparé in Paris, the Université Saint Joseph, in Lebanon; University of Damascus, in Syria; Unicamp; and University of São Paulo in Brazil, from where she also received a second PhD in State Law.
While working with the Scalabrini at the Catholic Church, Dr. Bertolin conducted independent studies as non-affiliated postdoctoral researcher at the Warren, Ash and Weatherhead Center at Harvard Kennedy School. She has taught Economic, Administrative, Tax and Constitutional Law, as well as Scientific Methodology; alongside her IIEL fellowship, she will lecture "Integral Law and Integrative State" in the Applied Social Sciences Master Program at the FCA-Unicamp, where she will be a postdoctoral adjunct researcher.