Ana Khouri (LL.M.'19) & Dean William M. Treanor Welcome Colombian President Iván Duque Márquez (MPM'07)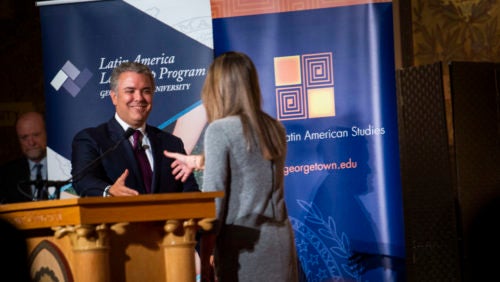 Each year, Georgetown Law welcomes students from more than 70 countries. But it's not very often that international J.D. or LL.M. students extend an invitation to the president of their country to come to Georgetown for a visit.
Ana Elena Khouri (LL.M.'19), president of Georgetown Law's Colombian Law Students Association, knew that Iván Duque Márquez (MPM'07), who was elected president of Colombia in June 2018, was a Georgetown University alumnus, with a master's in policy management. He is also a lawyer, with an LL.M. from American University.
"I knew that President Duque lived for years in Washington, D.C., that he studied here," said Khouri, who worked hard, along with fellow LL.M. student Francisco Pamplona (LL.M.'19), to invite the Colombian president to Georgetown. "I thought that maybe he would come in April, for the IMF meeting."
But Duque would be making his first presidential visit to Washington, to meet with U.S. President Donald Trump, in February. Duque accepted the invitation from the law students, who began collaborating with Georgetown University's Center for Latin American Studies and the Latin America Leadership Program for the occasion.
Which is how Khouri — a corporate lawyer from Colombia who is completing a general LL.M. with a focus on project finance — found herself welcoming President Duque onstage in Georgetown University's Gaston Hall on February 14.
"Latin America is now facing a swing in its policy agenda; new topics and concerns are now on the table for Latin American leaders. On behalf of the Colombian law students at Georgetown, I am pleased to welcome one of such new leaders…" Khouri said in her formal remarks. "[President Duque] dreamed big, he studied at Georgetown and he worked hard to fulfill his dreams. As Colombians, we are proud to say that President Duque is a fellow Hoya."
Duque revealed that he completed his master's capstone presentation in Gaston Hall.
"I feel the Hoya spirit right here…" he said. "I take this opportunity to thank the school for everything that the school has done for me. I am proud to be a public policy graduate, and I always remember the lessons I took from Georgetown in my daily activities."
The Policy Agenda for Latin America
Khouri and Pamplona — a corporate lawyer completing an LL.M. in international business and economic law — asked Law Center Dean William M. Treanor to moderate a discussion with Duque regarding "The Policy Agenda for Latin America."
One day earlier, Duque met with President Trump, joining in an official statement with the U.S. president regarding the crisis in Venezuela (the presidency of that country is disputed). Both Colombia and the U.S. strongly support Interim President of Venezuela Juan Guaido.
"We should do everything we can to let the Venezuelan people liberate from the most brutal dictatorship we have seen in years," Duque said. "This is a moral cause, and as president of Colombia, I will continue promoting the diplomatic blockade to get the Venezuelan people free of Nicolás Maduro," he said, to great applause.
"Of all the countries in Latin America, we are more involved in that problem, and he wanted to say, Colombia is supporting Venezuelan people, supporting democracy," Khouri noted after the event. "Colombia is there for Venezuela."
"His first month in the presidency has been tough, because he's trying to unify the people…" Pamplona said. "If you start doing what you think is correct, there are people who will not be happy with you…but I believe that what he is doing is the correct thing, and we support him."
Doing Things Differently
Duque and Treanor also discussed drug policy, economic policy and more.
"The broad international consensus is that the world has rejected drugs," Duque said, calling for a holistic approach. "What has to be done is to have prevention as a very important tool, to dismantle money laundering organizations and also put an end to the cartels that are putting in danger the lives of many people."
The integration of technology and the creative economy, he believes, will be "the next industrial revolution in Colombia." The country will also expand trade and eliminate obstacles. "The United States is our major trading partner," he said.
Regarding women's rights, "we have to educate men differently with respect to women," he said, to great applause.
"I liked when he talked about equality, because you don't see many women who are CEOs in Colombia," said Khouri, who plans to work in the private sector, for a firm or a multinational organization. "In the public sector, there is a law, if you want to be a general prosecutor, one of the three candidates must be a woman. But in the private sector, we don't have that."
Paths to Georgetown
Professor Ricardo Ernst, Georgetown University's Baratta Chair in Global Business at the McDonough School of and executive director of the Latin America Leadership Program, also spoke at the event, which was co-sponsored by the Center for Latin American Studies, the Latin America Leadership Program, and the Colombian Law Students Association of Georgetown Law.
The students are pleased with how the visit turned out. "It was incredible to have the opportunity to meet in person with the president," said Pamplona, who got to greet the president upon his arrival, along with some of Duque's former professors. "I believe he is the proper one to lead our country."
When you know that someone who is president had the same path as you, you feel proud," Khouri said. "It's possible; dreams come true."
But it wasn't the end of the story. Two days after the event, Khouri ran into the president of Colombia, with his security detail, in an antique store in Georgetown. "He recognized me, and told me that my speech really touched him," she said. "That was nice for me."