Brian Wallach (L'07): Combining Forces in the Fight Against ALS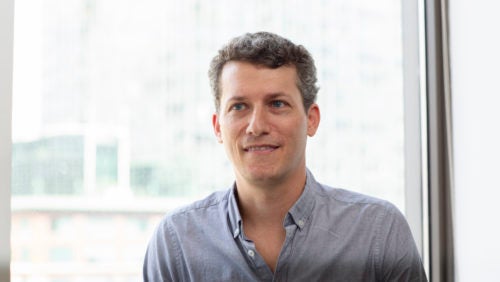 In November 2017, doctors handed Brian Wallach (L'07) a diagnosis that no one in their thirties expects to hear: amyotrophic lateral sclerosis (ALS).
But Wallach, a corporate partner at Skadden who worked for four years as a federal prosecutor, is not about to let anyone or anything determine the course of his own life. In January 2019, he launched a patient-led nonprofit called I AM ALS.
The purpose of I AM ALS is to bring together patients, advocates, organizations and researchers to drive collaboration, provide critical resources and increase awareness. The ultimate goal is to find a cure for ALS, while unlocking critical breakthroughs for all neuromuscular conditions such as Parkinson's Disease, Multiple Sclerosis, Alzheimer's Disease and beyond.
"When you are given a diagnosis like ALS, the doctors will often tell you to get prepared to die," said Wallach, who is married with two young daughters. "For us, that wasn't an option. We founded I AM ALS because we believe that the people living with this disease and the community fighting it needed to have a place they could go to be empowered. They needed to have a place that they could go to know that they weren't on their own — but were part of a much larger community and were able to help us solve this problem."
Helping Others
Wallach was born in the Washington, D.C., area to two lawyers — Georgetown Law graduate Anne Sullivan (L'76) and University of Virginia Law graduate Paul Wallach. His mom practiced at the Securities and Exchange Commission, and his dad was a partner at Hale & Dorr. When Wallach was an undergraduate at Yale, his dad would clip articles out of the newspaper and send them to his son, telling him: "Don't be a lawyer."
So after college graduation in 2003, Wallach turned to investment banking, consulting and college admissions — "an amazing job." But despite his father's warnings, he wanted to be a trial lawyer.
"When I thought about how I could make an impact in life…and when I looked at what I wanted to do, I knew that I loved being in an arena where you could speak publicly, and I knew that the pace of litigation appealed to me, because there was an immediacy and a direct impact to that experience. So I decided to apply to law school."
Georgetown Law's Section 3, with its alternate curriculum, appealed to Wallach: "Section 3 said, we want to break down how you view the world, and we want to force you to think about how you can, through your own actions, create a better world and give you the tools to actually go out and do that."
His path to assistant U.S. attorney took some time. After graduating from Georgetown Law in 2007, Wallach moved to New Hampshire to join the Obama presidential campaign. In 2009, he went to Skadden, where he had previously served as a summer associate, to work on corporate fraud cases. In 2011, he went to work at the White House, and returned to Skadden in 2013, this time in the Chicago office.
In August 2014, he left Skadden to become a federal criminal prosecutor in Illinois, living out his dream. "For me, part of it was a question of when I thought I was ready…if I did that job, I wanted to do it really well. Five years into my career, I was able to think about the law and actually understand the nuances of it to a degree that would enable me…to effectively advocate on behalf of the U.S. government."
Following the diagnosis, Wallach returned to Skadden, where he still practices, and traveled the country to learn what other organizations had done in the ALS space. "We had a chance to make a difference, because of the incredible experiences we'd been fortunate enough to have in life and the network that we'd built in life. Our thought was, how could we activate that network to actually augment the groups that were out there? The last thing we wanted to do was to spend a lot of time duplicating someone's efforts."
Every four minutes, someone is diagnosed with ALS in the world, Wallach says. "The fight against ALS is impactful not just for those living with it, but for the broader fight against neurological diseases, which will affect one in 15 American adults. So if you have a family member or a friend who is living with Alzheimer's or Parkinson's or Multiple Sclerosis, it's not an either/or proposition. If you support ALS research and support what we are doing with ALS, our hope is — and our expectation is — that breakthroughs here can lead to breakthroughs in those [areas] as well. That intersectionality is a big thing…this fight is all of our fights. Cure one, cure them all."
Impacting Change
In just six months, I AM ALS has grown to a community of 20,000 strong, built a renowned scientific advisory board, expanded an advisory council with more than 50 people living with or affected by ALS and secured support from former President Barack Obama and the Obama Foundation.
Wallach travels frequently to Washington, D.C., to build ALS champions on Capitol Hill. The I AM ALS legislative efforts have resulted in Wallach testifying before Congress; the House of Representatives voting to double Department of Defense funding for ALS research (from $10 to $20 million); securing congressional language directing the National Institutes of Health to "facilitate the expeditious development of targeted therapies" to combat ALS; and a U.S. House ALS Congressional Caucus co-chaired by four bipartisan representatives.
"I always believe that the way we bring about real change is by building a coalition and by pushing that coalition to dream farther and faster than we ever thought possible before…If you join us, we can actually cure this thing," he said, noting that 30 different genes linked to ALS have been discovered in the past decade alone. "This has moved us from the question of 'can we cure this?' to 'when can we cure this?'"
The biggest thing missing right now, Wallach says, is awareness. "Your contribution could be as simple as going to a party in your neighborhood to meet someone with ALS and find out how you can help," he says. "That connectivity will help us truly transform this fight — from a 'my' fight to an 'our' fight."