Georgetown Law Sees Significant Increases in Applicants, Student Diversity and Achievement for the New Academic Year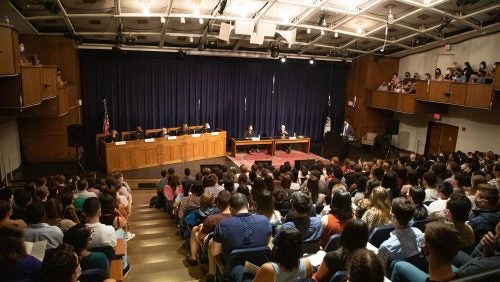 In the most recent admissions cycle, Georgetown Law received the most applications of any U.S. law school in history: 14,052 in total. Of all law school applicants nationwide, one in five applied to Georgetown. The school's acceptance rate was 12.9%, down from 21% a year ago, yielding an incoming class of 561 students.
The incoming J.D. class is the school's most diverse, with 40% identifying as persons of color, as compared to 32% a year ago. This includes the highest-ever percentages of Asian, Latino and Native American students and the second-highest percentage of Black students. The class is 54% women.
The Georgetown Law Class of 2024 holds several other distinctions, including the school's highest median LSAT scores (171, as compared to last year's 168). Eleven percent of the entering class earned Phi Beta Kappa honors as undergraduates, and their median grade point average is 3.85, also the highest in the school's history.
The school's newest students are diverse by several additional measures. They hail from 45 different states and 17 foreign countries. Eleven percent were the first members of their families to graduate from college. One hundred and ten are Opportunity Scholars, a program that provides scholarships to students who have both the highest academic credentials and the most significant financial need. In recent years, the number of Opportunity Scholars has more than doubled.
"I am thrilled to welcome this outstanding group to our Georgetown Law community," said Dean William M. Treanor. "These students represent the future of the legal profession and I can't wait to see what they will accomplish as students and future leaders in the legal community. It has been a real pleasure to meet them in person on our campus during orientation."
While law school applicants were up across the board — 12.6% higher nationwide over the previous year — applicants to Georgetown Law "exploded" this year by 41%, according to Dean of Admissions Andrew Cornblatt. Cornblatt, who first joined the Law Center's admissions office in 1980, said he believed several factors accounted for the increase.
"We had a perfect storm of law-related conversation everywhere in the media. The 2020 election, criminal justice issues, an uncertain economy," said Cornblatt. "At the same time, people were stuck at home and had a strong desire to look ahead and plan for a brighter future. Georgetown Law, with our location in Washington, D.C., our strong tradition of public service and our many professors and alumni in the news, was very attractive to applicants this year."
Cornblatt also shared several notable facts about the incoming class. It includes 11 teachers, six Peace Corps Volunteers, 13 members of the military, six Fulbright Scholars, five student body presidents, an immigration asylum officer, a pediatrician, a former ice dancer competitor at the US Figure Skating Championships and a former Washington Post assignment editor.