Georgetown Law Students Attend Groundbreaking Supreme Court Confirmation Hearings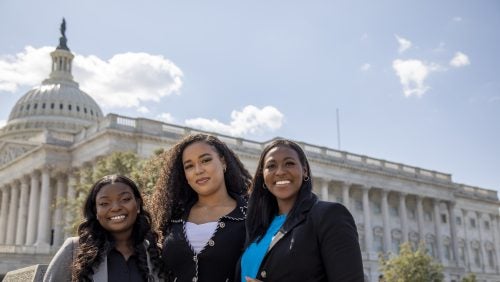 Recently, several women members of Georgetown Law's Black Law Students Association (BLSA) witnessed history in the making at the Senate Judiciary Committee's hearings on Judge Ketanji Brown Jackson's nomination to the Supreme Court.
As a presidential candidate, Joe Biden pledged that if elected, he'd be the first U.S. president to nominate a Black woman to serve on the Supreme Court. And when Associate Justice Stephen Breyer announced plans to retire this year, Biden followed through on that promise, choosing Jackson to replace the justice for whom she had once clerked.
The Judiciary Committee passes were some of the hottest tickets in D.C., but fortunately, there are a few Georgetown Law alumni in the Senate. Katy Button (F'94), Georgetown University's Associate Vice President for Federal Government Relations, reached out to ask if any current students might have the opportunity to see Brown's confirmation hearings in person, and the offices of Sen. Patrick Leahy (L'64, H'94) and Sen. Dick Durbin (F'66, L'69) provided a total of eleven passes for distribution to Black women students at Georgetown Law.
We asked some of the students who attended the hearings what the experience was like, and what it meant for them as they look toward their own futures.
Tinesha Zandamela (L'24) appreciated hearing members of the Senate and Judge Jackson discuss the Constitution, a topic she's immersed in as a first-year J.D. student: "Seeing things like that in action shows how crucial the things that I'm learning now are… There sometimes can be a tendency to be like, 'OK, I'm going to have to know some of this for the bar, but after that, this is unimportant.' But those foundational aspects are truly just that. They're absolutely crucial and foundational. Which is exciting!"
Mariah Breit (L'24) is now exploring new career possibilities: "Clerking was something that I hadn't really considered seriously, but after sitting in that room, I've been thinking about it a lot… Seeing someone that looks like me in a position like that… really does show us that all of our hard work is not for nothing, and we can get to spaces like the Supreme Court."
Jade Baker (L'22), president of Georgetown Law's Student Bar Association, felt a bond with the nominee: "It really did feel like we were there for moral support and felt like she could feel our presence… As Black women, we only make up two percent of the entire legal profession. So we really always have each other's back, no matter what room, no matter the person… I'm so grateful that I had the experience to support her."
Odunayo Durojaye (C'19, L'22) reflected on how inspiring it was to see Jackson as a Supreme Court nominee: "It showed me that I could dream bigger. And at first dreaming bigger was just becoming a lawyer. And now dreaming bigger is like – maybe I could be a Supreme Court clerk. Maybe I can do whatever I want… I can be who I want to be, dream bigger and just be the best person. And that is what will get me where I want to go."
Watch this video for more reflections from Baker, Breit, Durojaye, Cheyenne Freely (L'22) and Sephora Grey (L'22), all of whom visited the Senate hearing room on the first day of Jackson's confirmation hearings: