Georgetown Law Students Host National Muslim Law Students Conference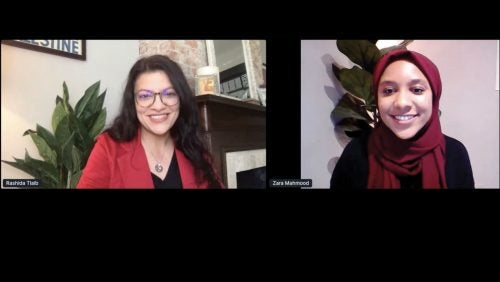 Two Georgetown Law students co-directed the third annual National Muslim Law Students Conference last month.
The largest event of its kind yet, the three-day online conference drew 140 students from 65 law and undergraduate schools from across the country and 60 attorneys from a variety of practice areas.
"There are some law schools that don't even have a Muslim Law Student Association, and may not know many Muslim law students at their schools," said Zara Mahmood (L'22). "So we wanted to make sure Muslim law students across the country knew that they weren't alone."
Mahmood and her co-director Tooba Hussain (L'21) both serve on the board of Georgetown Law's Muslim Law Student Association, and took advantage of the virtual format to bring in organizing support from students at Rutgers Law School, University of Michigan,Villanova University and others.
Among the speakers was U.S. Representative Rashida Tlaib (D-MI), who opened the conference on Friday, April 2. She spoke about how her Muslim identity has informed her work, an ongoing theme of the conference.
"I pursued my career in public service as an elected official in order to advocate for the community that raised me and helped shaped the person that I am today," she said.
She said that even as she was running for Congress in 2018 she never thought "someone like me" could get elected.
"If there is one thing I want you to take a way from all this today is that your voice is incredibly powerful, your potential to impact the future is limitless," she told the students.
Something for Everybody
In order to offer Muslim students connections and resources to help them thrive, Mahmood and Hussain organized networking events where law students could meet with practicing lawyers in small groups, and a variety of panels featuring Muslim attorneys specializing in corporate law, public interest, appellete law and criminal law. One panel explored clerkships, and featured former and current Muslim judicial clerks, while another on "Alternative Routes," provided tips to students interested in pursuing careers in politics, government and more.
"We wanted there to be something for everybody," said Mahmood. "The conference is dedicated to letting Muslim law students know that there are Muslim lawyers practicing across the legal realm."
Other panels, such as "Major Muslim Civil Rights Litigation" examined the impact of the law on Muslim communities. Among those on the panel was Mazen Basrawi, a U.S. Department of Justice attorney who successfully defended the right of an Islamic Center in Tennessee to open a mosque in the case of U.S. v. Rutherford County, Tennessee.
Building Community
Though much of the conference was focused on professional development, the main objective was to build community and to highlight representation of Muslim lawyers and law students according to Mahmood.
To that end, the closing event featured the first Muslim editor-in-chief of the Harvard Law Review, Hassaan Shahawy, who was recently elected to that role. Shahawy was in discussion with other Muslim editors-in-chief from University of Michigan, Berkley and Rutgers.
"This conference gave me a platform to connect with so many diverse Muslim lawyers who have made spaces for this community," said Bakhtawar Mirjat, a 1L at University of Illinois College of Law who served as the conference's program director. "Through this time of isolation, I have found a larger community of people that I feel I can reach out to for advice and even lean on when I need a friend, Alhumdullilah."