Professor Chris Brummer, Director of the Institute of International Economic Law, Talks Fintech with ESMA Chair Steven Maijoor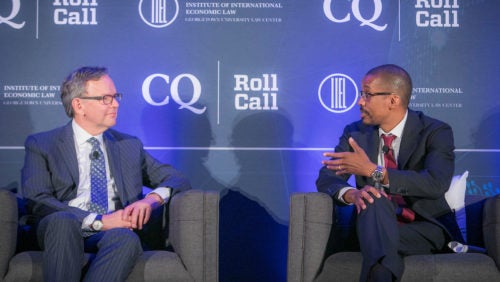 In a terrific opportunity for Georgetown students and alumni — as well as Washington's policymaking and regulatory communities — Steven Maijoor, Europe's Capital Markets Chief, provided a one-on-one interview with Professor Chris Brummer on the regulation of cryptocurrencies like Bitcoin. Maijoor also offered his views regarding the most complicated challenges facing $400 trillion cross-border derivatives market.
Josh Resnik, publisher of CQ Roll Call, introduced the June 12 event in Georgetown Law's Gewirz Student Center. The talk was cosponsored by Georgetown's Institute of International Economic Law and CQ Roll Call.
"It's hard to think of anyone better suited to…give a detailed overview on the state of European negotiations than Steven Maijoor," Brummer observed. "As the chair of the European Securities and Markets Authority, Mr. Maijoor is at the heart of…efforts to regulate financial technologies in global capital markets, and the decisions he takes are bound to impact global decisionmakers."
How are European Union laws and regulations being applied to cryptocurrencies — and how does this affect the American market? "If it [a cryptocurrency] looks like a financial instrument, you should treat it like a financial instrument," Maijoor said, noting that Europe has a history of trying to integrate many different financial markets, and consistency is key. "Ultimately, there is a supervisory judgment, although there are small differences across the member states on what is precisely a financial instrument…by and large, we have common definitions… Once you are a financial instrument, you are pulled into the whole regulatory world."
Other topics included the relocation of market participants in light of Brexit; the authority of regulators to examine cryptoassets; and more. Talking on a global level among regulators and the public is critical, Brummer and Maijoor noted.
"As a regulator, you need to be humble, you need to understand these new developments," Maijoor said. "There is a global regulatory community thinking about these [questions]…you need all the brain power and expertise[.]"
Cryptocurrencies
Maijoor's interview with Professor Brummer, which was also recorded as part of his new "Fintech Beat" podcast with CQ Roll Call, was preceded by a panel of experts on the leading edge of financial regulatory analysis in the fintech space. A significant portion dealt with the role of stablecoins, a particular form of cryptoassets, in light of Facebook's announcement of its cryptocurrency, Libra.
Brad Carr, senior director of Digital Finance Regulation and Policy at the Institute of International Finance; Amy Kim, chief policy officer at the Chamber of Digital Commerce; and Tim Swanson, founder of Post Oak Labs, helped Brummer explore how innovations such as J.P. Morgan's digital coin and Facebook's upcoming cryptocurrency will shape the landscape. "Since [Facebook] has taken all [our] data, now [they] want to take all [our] money…" Swanson joked. "Facebook's global coin…is going to be supposedly for…the billion-plus users that they have, to move money across borders."
Swanson raised questions assessing risk when a bank such as Citibank holds another bank's coin and how this fits within the existing financial framework. "I think they are all manageable issues," he said.
Kim talked about money transmitting laws/money laundering in light of international regulatory authorities and the upcoming G20 summit in Japan. "Virtual assets can be a pretty broad category…what is an investment can be blurred," she said. What do you know about the person originating the payment, and the person receiving? "If you think about that in the blockchain context…that's where some of the consternation comes in, and regulators are looking for solutions."
Professor Chris Brummer is a member of the Commodity Futures Trading Commission's Subcommittee on Virtual Currencies, and a member of a working group for the European Securities and Markets Authority's Financial Innovations Standing Committee.