Professor Edith Brown Weiss Honored for 30 Years of Service to the Georgetown Environmental Law Review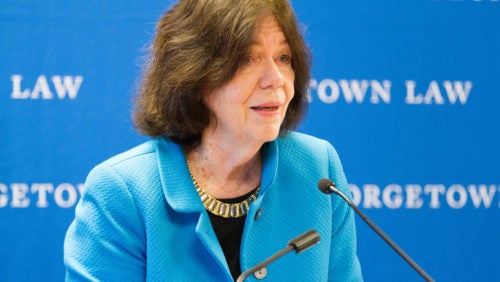 The Georgetown Environmental Law Review launched in the 1980s through the efforts of three founding students, all women: Bernadette Brennan (L'89), Sara Schreiner (L'85) and Cynthia Jirgensons (L'89).
There was no space at the Law Center for the journal, so it was housed at the Environmental Law Institute for the first two years before then-Dean Bob Pitofsky was urged to bring it back home.
"If you go back to the very first issue of the environmental law review, it was actually dedicated to the 'founding mothers…'" Professor Edith Brown Weiss noted at the journal's biannual symposium, "From Exxon to Paris: A Review of Environmental Law Over the Last 30 Years," held at Georgetown Law on April 13. The symposium looked to the past and towards the future, with the help of Brown Weiss, Professor Peter Byrne, Professor Lisa Heinzerling and Adjunct Professor Patricia Beneke. "The tradition of both men and women, and diversity, has continued."
Perhaps no other person has made such a significant impact in the field of international environmental law — and international environmental law at Georgetown — over the 30-year life of the journal than Professor Brown Weiss.
Brown Weiss, the Francis Cabell Brown Professor of International Law and an expert in the areas of public international, environmental, and water resources law, was honored for her contributions at the end of the all-day symposium.
Brown Weiss has been "monumental in the field of international environmental law" and "an inspiration…to generations of young advocates," said Sarah Ruckriegle (L'18).
"She's a significant mentor and contributor to the academic research and publication community…and has authored numerous scholarly articles and books on international environmental issues" — including the award-winning In Fairness to Future Generations: International Law, Common Patrimony, and Intergenerational Equity, which has been published in multiple languages.
"She has won global awards and recognition for her work," said Assistant Dean Vicki Arroyo (L'94), executive director of the Georgetown Climate Center — noting that Brown Weiss has presented the general course on public international law at the Hague Academy of International Law and received the Manley O. Hudson Medal from the American Society of International Law, among other achievements.
"Those awards and honors illustrate how much she is admired and respected globally for her scholarship and her work…we and so many others who have passed through Georgetown are grateful for your scholarship, your teaching, your coaching, and your contributions to the Georgetown Law community."
Brown Weiss said she was grateful for the honor. "This means everything to me, because Georgetown and the young people who come through here and become leaders in the field, are really a treasure, a treasury for the future."