Rep. Lois Frankel (L'73) Honored By Georgetown University, UN Groups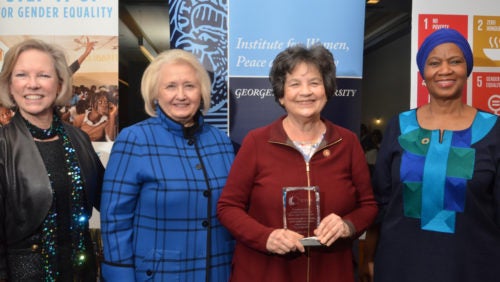 Since she was elected to Congress in 2013, Rep. Lois Frankel (D-Fla.)(L'73) has successfully advanced progress for women and girls — in the United States and around the world.
On March 5, just in time for International Women's Day, Frankel was honored at Georgetown University by UN Women, the United Nations Foundation, and the Georgetown Institute for Women, Peace and Security for her efforts to promote gender equality in U.S. foreign policy. Three other congresswomen were also honored at the event, hosted by Lisa M. Richman (L'02) at the Washington, D.C., office of McDermott Will & Emery. Richman co-chairs the firm's global Gender Diversity Committee.
"It was a wonderful night and celebration of the work Rep. Frankel and other congresswomen in advancing progress for women and girls in the U.S. and around the world," Richman said. "I was delighted to host the event and am very proud of the support my firm has given to this initiative and to other causes devoted to similar issues."
Upon accepting the award, Frankel acknowledged that women continue to face obstacles, all over the world, from access to health to getting a good education to living free of violence and workplace discrimination.
"But there is a lot of hope," she said. "There are many stories [of women's resilience and accomplishments]. When we multiply them out, that's how we will eliminate barriers."
Frankel has used her Georgetown Law education to empower others. Her achievements highlight the dual role played by congresswomen as both legislators and as advocates for women in global affairs.
"We know that with more women in decision-making positions, we see more inclusive decisions and different solutions. As legislators, you have a unique opportunity to recognize and redress barriers to gender equality," said United Nations Under-Secretary-General Phumzile Mlambo-Ngcuka, who presented the award to Frankel.
Advancing Prosperity
A member of the House Foreign Affairs Committee, Frankel was a driving force for the bipartisan Women's Entrepreneurship and Economic Empowerment Act. Recently signed into law, it will help women to overcome poverty and the barriers that prevent them from achieving economic independence through entrepreneurship.
"Women are key to achieving and advancing prosperity around the world. When women succeed, we all succeed," Frankel said.
Frankel served as co-chair of the Congressional Caucus for Women's Issues in the last Congress. Under her leadership, this powerful, bipartisan caucus championed legislation to promote women and girls.
Frankel sponsored the Stopping Sexual Exploitation of Power Act to address military personnel's abuse of power, and has been a leader on the Keeping Girls in School Act and the Violence Against Women Act. She sponsored the Empower Act to deter, prevent and respond to harassment in the workplace.
She recently introduced a resolution to increase global awareness of female genital mutilation and recognize it as a human rights violation. Frankel has also spoken out on the importance of increasing Afghan women's opportunities to engage in efforts for peace.
"She has a reputation for being an innovative problem solver, for working across party lines to achieve consensus on critical issues, and for demonstrating a commitment to making a difference as a public servant," said Ambassador Melanne Verveer, executive director of the Georgetown Institute for Women, Peace and Security.