Too Poor to Vote? Civil Rights Clinic, Campaign Legal Center Release "Can't Pay, Can't Vote"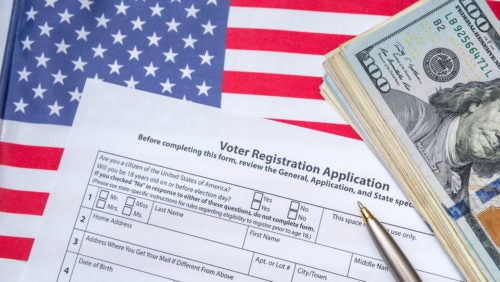 On July 25, Georgetown Law's Civil Rights Clinic and Campaign Legal Center released "Can't Pay, Can't Vote: A National Survey on the Modern Day Poll Tax." The report is one of the first comprehensive studies of how voting rights restoration schemes deny the right to vote to those who cannot afford to pay legal debt.
On the day of the launch, Professor Aderson Francois, director of the Civil Rights Clinic at Georgetown Law, joined Danielle Lang, co-director of Voting Rights & Redistricting at Campaign Legal Center; Chiraag Bains, Director of Legal Strategies at Demos; and Thea Sebastian, Policy Counsel, Civil Rights Corps for a conversation on the intersection of the criminal justice system, wealth, and voting. The call-in discussion was moderated by Keesha Gaskins-Nathan, program director for the Democratic Practice-United States program at the Rockefeller Brothers Fund.
"The majority of states condition rights restoration either explicitly or implicitly on the payment of… financial obligations," Gaskins-Nathan said. "As a result, whether an individual is able to vote after being convicted of a crime depends on his or her ability to pay off an outstanding debt…essentially, a modern day poll tax."
Nationwide, as many as 23 million citizens have felony convictions, and in 2019, at least 30 states continue to disenfranchise some of these citizens based on wealth.
Georgetown Law's Francois said that the practice in America of tying voting to the ability to pay is "an ugly historical pattern" dating back to the Civil War and Reconstruction. Between 1890 and 1908, Confederate states adopted a number of voter suppression tactics, including those tying voting to money and property.
Today, "this practice…tends to fall particularly hard on poor people…but also on black and brown people, as the report makes clear…" Francois said. "The reason why we should care is not just a matter of individual injustice to people who can't vote, which is important enough. [But] it fundamentally raises the question of whether we can call ourselves a true democracy when we turn around and use so many tools to disenfranchise so many people based purely on their ability to pay before they can vote."
Widespread problem
According to the report:
8 states explicitly condition voting rights restoration of formerly incarcerated individuals on the payment of fines and fees: Alabama, Arizona, Arkansas, Connecticut, Florida, Georgia, Tennessee and Washington.
20 states do so implicitly: Alaska, California, Delaware, Idaho, Kansas, Louisiana, Minnesota, Mississippi, Missouri, Nebraska, New Jersey, New Mexico, North Carolina, South Carolina, South Dakota, Texas, Virginia, West Virginia, Wisconsin and Wyoming.
2 states that permanently disenfranchise convicted individuals require payment of fines and fees for clemency eligibility: Iowa and Kentucky.
20 states and the District of Columbia do not condition the right to vote on the payment of fines and fees.
Sebastian noted that fees and fines have risen dramatically across the country over the past 30 years, financing the criminal legal system as well as mass incarceration. "We are increasingly funding public services with money [from] men, women, and even kids being processed through our courts, even though 80 percent of these individuals are so poor that they cannot afford a lawyer."
Lang said the report arose from Campaign Legal Center's work in Alabama and elsewhere fighting the modern-day poll tax. "The issues…are not just absolute wealth barriers, although those are of course of critical importance, but lack of oversight of how these systems are administered, the lack of clear pathways even for those who may be able to navigate their way through and pay the fines and fees required of them."
One man was denied the right to vote in 2018 because he owed four more dollars, she said.
"We started to recognize that this is a problem that is far more widespread," Lang said, noting that parole and probation are often extended if people do not have the money to pay various fines and fees. "When the public understands that there is a poll tax equivalent in our system, they are really quite outraged… We are so glad to release this report and to call attention to it."