Robert F. Drinan, S.J., Chair in Human Rights
In 2006, Georgetown Law established the Robert F. Drinan, S.J., Chair in Human Rights. This position is designed to bring distinguished human rights practitioners to Georgetown Law to teach and engage with our community.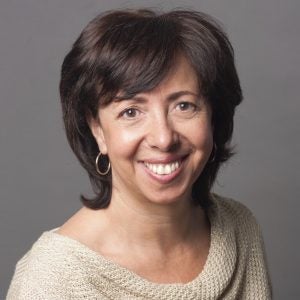 We are pleased to welcome Elisa Massimino as the 2019-21 Robert F. Drinan, S.J., Chair in Human Rights. Massimino is also Senior Fellow with the Carr Center for Human Rights Policy at Harvard University's Kennedy School of Government and she recently served as Practitioner-in-Residence at Georgetown University's Walsh School of Foreign Service. Prior to these appointments, Massimino spent 27 years with Human Rights First—the last decade as President and CEO.
Massimino has a distinguished record of human rights advocacy in Washington. She has testified before Congress dozens of times, writes for mainstream publications and specialized journals, appears regularly in major media outlets, and speaks to audiences around the country. Since 2008, the influential Washington newspaper The Hill has consistently named her one of the most effective public advocates in the United States.
Prior to her work with Human Rights First, Massimino was a litigator in private practice with the law firm Hogan & Hartson (now Hogan Lovells). Massimino is a member of the Council on Foreign Relations and the U.S. Supreme Court Bar. She serves on the Board of Trustees of the McCain Institute for International Leadership and the Migration Policy Institute, on the Board of Directors of RFK Human Rights, and on the Advisory Councils of Refugees International and National Security Action. She holds a law degree from the University of Michigan, a Master's in philosophy from Johns Hopkins University, and is a Phi Beta Kappa graduate of Trinity University in San Antonio, Texas, where she was recently honored as Distinguished Alumna. You can follow her on Twitter at @ecmassimino.
---
Past Drinan Chairs
2018-2019: Hina Jilani, former UN Special Representative on Human Rights Defenders and former President of the World Organisation Against Torture
2017-2018: Stephen Rapp, former Ambassador-at-Large for Global Criminal Justice. Distinguished Fellow at the United States Holocaust Memorial Museum's Center for the Prevention of Genocide and The Hague Institute for Global Justice
2016-2017: François Crépeau, UN Special Rapporteur on the Human Rights of Migrants and Full Professor at the McGill University Faculty of Law
2015-2016: Eric Rosenthal (L'92), Founder and Executive Director of Disability Rights International
2013-2014: Bela Kapur (LL.M.'92), former U.N. Human Rights and Political Affairs Officer
2011-2012: Gay McDougall, former United Nations Independent Expert on Minority Issues
2009-2010: Aryeh Neier, President Emeritus, Open Society Foundations
2008-2009: Fatsah Ouguergouz, Justice, African Court on Human and Peoples' Rights
2007-2008: Thomas Buergenthal, former Judge, International Court of Justice