Hina Jilani, 2018-2019 Robert F. Drinan, S.J., Visiting Professor of Human Rights, Speaks on "Human Rights and the Rule of Law in Times of Crisis"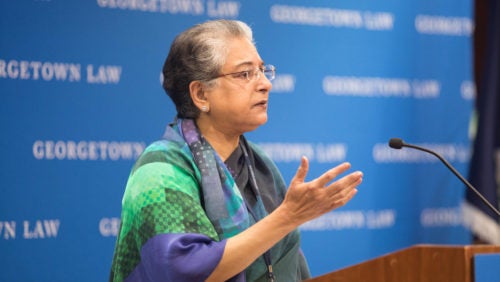 Contemporary threats to security — noted Hina Jilani, the 2018-2019 Robert F. Drinan, S.J., Visiting Professor of Human Rights at Georgetown Law — go far beyond wars between states.
"Today, peace can no longer be associated only with the absence of war. Communities are besieged by violence in the name of religion, ethnicity and rejection of diverse identities…terrorist campaigns, insurgencies, food crises, long-term political and economic instability, and natural disasters have placed human security of vast populations in peril."
Jilani, the former UN Special Representative on Human Rights Defenders, delivered the Drinan Lecture on "Human Rights and the Rule of Law in Times of Crisis" at Georgetown Law on October 3. She examined how periods of conflict and political crisis give rise to serious human rights violations — and the long-term effects of deviating from the rule of law, respect for human rights, long-lasting peace, sustainable democracy and social progress.
Jilani began by remembering Kofi Annan, the seventh Secretary-General of the United Nations who died in August. In a 2005 report, Annan set forth a clear vision "between peace and security and human rights, calling for more effective action to protect human rights in the context of threats to peace and security," Jilani said. "He [urged states] to seriously pursue broad, deep, and sustained global cooperation to promote human rights and democracy and to undertake development…to prevent terrorism, strengthening cooperation and bringing peace to war-torn areas."
Annan's message, she said, remains as valid and urgent as it was then — "when he advised the states on the way forward." Yet many countries seem "trapped in a perpetual state of transition," and there is a lack of political will or capacity among leaders to address the problems.
Speaking as a human rights defender as well as a lawyer, Jilani spoke of efforts to use the law to end the "culture of impunity" for human rights violations.
"I hope that these experiences will be of some use to you in your future endeavors as young lawyers…" she told the students. "Many of you will find that these are similar experiences in the context of [what you will face]."
Never a luxury
In the post-9/11 era, Jilani noted, some countries have avoided or militarized the regular criminal justice system in countering terrorism — which poses a threat to the rule of law. "Human rights and humanitarian law were not adopted with the idea that they were applicable only in conditions of peace and political stability…" she said. "Human rights are not and can never be a luxury to be cast aside at times [of conflict]; international law is the foundation that will help states respond effectively to whatever difficulties arise."
Jilani spoke of the 70th anniversary of the Universal Declaration of Human Rights; International Criminal Court; discrimination against women and more. A question and answer session followed the event, which was co-Sponsored by the Human Rights Institute and the Center on Ethics and the Legal Profession.
Professor Andrew I. Schoenholtz, director of Georgetown Law's Human Rights Institute, said he was "personally quite humbled by the vision and bravery" of Jilani, "an internationally recognized scholar and defender of human rights." Jilani founded Pakistan's first all-women law firm, its first legal aid center, and the Pakistan Legal Rights Commission. She has been an advocate of the Supreme Court of Pakistan since 1992; served as a UN Special Representative on Human Rights Defenders from 2000 to 2008; and the president of the Royal Organization Against Torture in 2016. For her work, she was awarded the Millennium Peace Prize for Women in 2001.
"On behalf of vulnerable people in her home country and around the world, she has advocated for and advanced the rights of women, children, minorities, and prisoners," Schoenholtz said.