Autonomy and the Extradition Law Protests in Hong Kong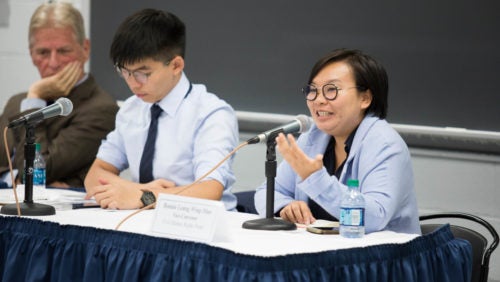 On September 18, the Center for Asian Law hosted a vibrant discussion on the months-long protests in Hong Kong, called "Hong Kong's Anti-Extradition Law Protests: Voices from the Movement." Thomas E. Kellogg, executive director of the Center, moderated the event, which included Michael Davis, a senior research scholar at Columbia University and a former professor of law at Hong Kong University; Bonnie Leung, vice chair of the Civil Human Rights Front, a human rights organization in Hong Kong; Joshua Wong, the prominent Hong Kong activist who has been jailed for his rights activism in Hong Kong; and Georgetown Law Associate Dean James V. Feinerman of Graduate and International Programs.
Leading off, Davis outlined Hong Kong's unique constitutional order, describing the key instruments which undergird and protect it. In particular, the 1984 Sino-British Joint Declaration, an international treaty registered at the United Nations, gives the United Kingdom a clear and abiding legal interest in Hong Kong's autonomy, as put forward in Hong Kong's Basic Law, its mini-constitution.
"Is Hong Kong an 'internal affair' of China? I would argue no," Davis said. "The Sino-British treaty and the Basic Law promised that Hong Kong would be different, that it would have a separate system." As a result, Davis argued, the Chinese government has a real obligation to respond to the concerns raised by the international community – in particular the U.K. government – about the erosion of Hong Kong's promised autonomy. After all, the United Kingdom, the United States, and others all have a vested interest in Hong Kong's constitutional order.
Davis also argued that, in recent years, Beijing has failed to live up to its legal commitments, both under the Joint Declaration and under the Basic Law. "Has China kept its commitments? I would say no," Davis said. "Right now, the autonomy of Hong Kong is in serious jeopardy."
"This panel was a major opportunity for our students to hear directly from Hong Kong activists themselves," said Kellogg. "No doubt, the situation in Hong Kong remains tense. Only through dialogue and discussion – including discussion among Hong Kong and Chinese students here in the United States – is a peaceful resolution to the crisis possible."
For her part, Leung discussed the emergence of the protest movement, focusing in particular on a controversial anti-extradition bill that the Hong Kong government introduced in February 2019. A local man accused of murdering his girlfriend in Taiwan was arrested in Hong Kong in March 2018, and the Hong Kong government used that tragic case as an opportunity to push its own agenda, in the form of an unnecessary and overbroad extradition bill.
"The Hong Kong government chose not to help the victim, and proposed a bill that will harm the rule of law in Hong Kong," she asserted. "The people decided to take to the streets and protest."
Why should protests matter to the world, and to people living in the United States? Joshua Wong argued that, for the international community, a key principle is at stake. "China is a country that does not respect international order," Wong asserted. "If Beijing fails to [carry out] a promise in the Sino-British joint declaration, that promise to let Hong Kong people have a high degree of autonomy…who can guarantee [that it will keep a promise with respect to] any international treaty in the future?"