Commanders in Chief: Women in the Arena of National Security
In 2018, women lawyers working in national security still might find themselves the only woman in the room. With a deep bench of national security faculty, alumnae and students, Georgetown Law is transforming that dynamic.
On Saturday, March 3, at 9 a.m., Ashley Nicolas (L'19) must advise the Attorney General whether a suspected terrorist detained abroad should be tried in an Article III court or extradited to Guantánamo Bay detention camp to go before a military commission.
Prior to law school, Nicolas deployed to Kandahar, Afghanistan, as an active duty U.S. Army Intelligence Officer after graduating from West Point. Today, she's playing the role of the U.S. Assistant Attorney General in the 2018 National Security Crisis Law Invitational at Georgetown Law.
Over the course of several days, law students from Georgetown and around the world role play federal, state and local government officials facing a fast-breaking series of national and global security crises. One hundred and fifteen players from the United States, the U.K., Canada, and Australia will be tested on international cooperation with their foreign counterparts, information sharing across borders and much more. These are skills students don't get from a textbook.
Professor from Practice Mary B. DeRosa – who in real life was the former deputy assistant and deputy counsel to the president and National Security Council (NSC) legal adviser in the Obama Administration – serves as the president of the United States, pressing for information, legal analyses and advice from the Justice Department and other agency officials. Katy Pasieta (LL.M.'13), now an executive officer for the U.S. Navy's legal service office in Hawaii, plays the National Security Council Legal Adviser.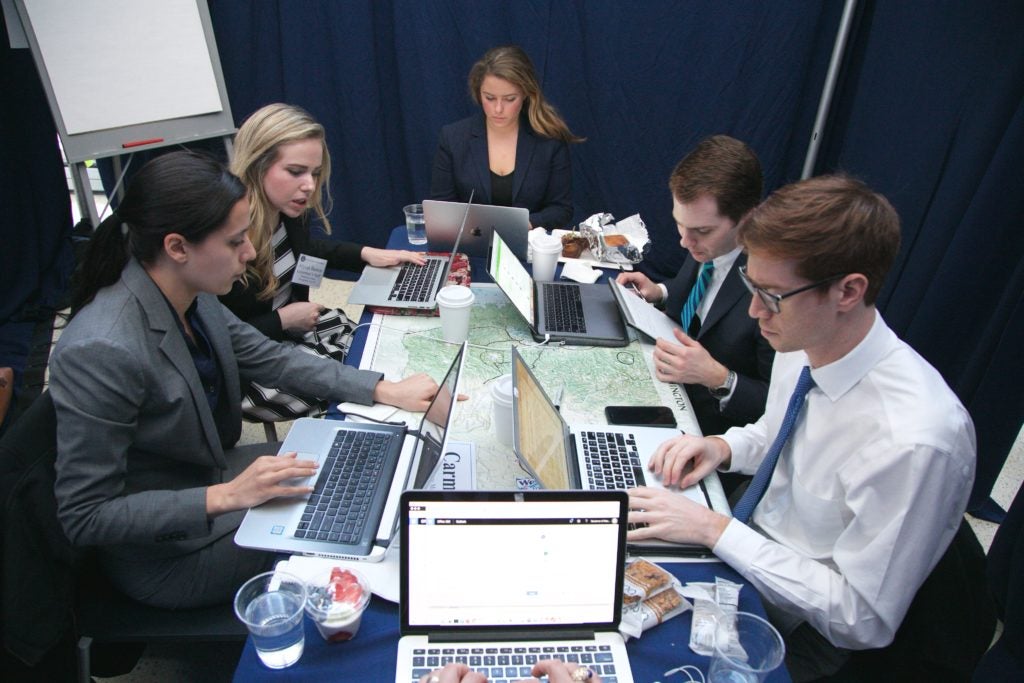 Professor Laura K. Donohue watches from a corner of the room – when she's not behind the scenes in the Control Room, directing the enormous operation. The exercise, which builds on previous iterations, requires years of preparation. Dozens of volunteer experts, almost all of whom are Georgetown Law alumni working in national security law, donate their time to ensure that the next generation of lawyers learns what they need to excel.
These multiple global crises – while simulated – feel very real to the participants in the Sim, who must act swiftly and decisively to stave off disaster.
"In many ways, I felt like I learned more in the 48 hours of the Sim than I've learned in any other single academic experience," Nicolas said afterwards. "In law school, we typically are dealing with concepts applied to a closed universe of facts, without any distractions. But during the Sim, the facts were dynamic, personalities were in play and we were consistently acting in very complex areas of the law.
It is simple to learn the rules and take a test; the game completely changes when you have to actually put those lessons into practice under pressure."
GAME CHANGERS
No other law school has a national security simulation this complex. But what's also remarkable is the number of women involved – reflecting Georgetown Law's deep bench of faculty, alumnae and students in a traditionally male-dominated field.
At a noontime National Security Council meeting during the Sim, DeRosa, as president, is grilling the Cabinet about their response to cyberattacks on major financial institutions, noting a lack of interagency coordination between Treasury and the FBI.
In real life, DeRosa brings an insider's view of the White House to her teaching at Georgetown Law, where she is professor from practice and co-director of the Global Law Scholars Program. At the White House, she worked as deputy counsel to President Obama and as NSC legal adviser in both the Clinton and Obama Administrations. She was also the first woman legal adviser for the National Security Council.
"Having women at Georgetown who are incredibly accomplished and really willing to sit down with students is definitely inspiring and motivating," says Sabrina McCubbin (L'18), the student editor-in-chief of the Journal of National Security Law & Policy. "I'll go in to [DeRosa's] office and just chat. We had a long conversation about female student leaders – a lot of them still feel they have to work that much harder to get the job or to get recognized."
Full-time faculty working in the national security space include Donohue, Associate Dean Rosa Brooks and Professor Jane Stromseth. It's not only the professors, it's leadership roles in student organizations like the National Security Law Society and Military Law Society, and people like Nadia Asancheyev (L'06), executive director of the Center on National Security and the Law.
During the course of their law school careers, students might get to know Distinguished Lecturer from Government M. Tia Johnson, former assistant secretary for legislative affairs at the U.S. Department of Homeland Security and a retired colonel in U.S. Army Judge Advocate General's Corps, the first African-American woman to achieve that rank.
"I tell students that national security lies at the line between [textbook] law and policy and politics," says Johnson, noting that professionals often need to act without full knowledge of the facts on the ground. "You are never going to have 100 percent of the information. In the national security world, you have to make a decision regardless."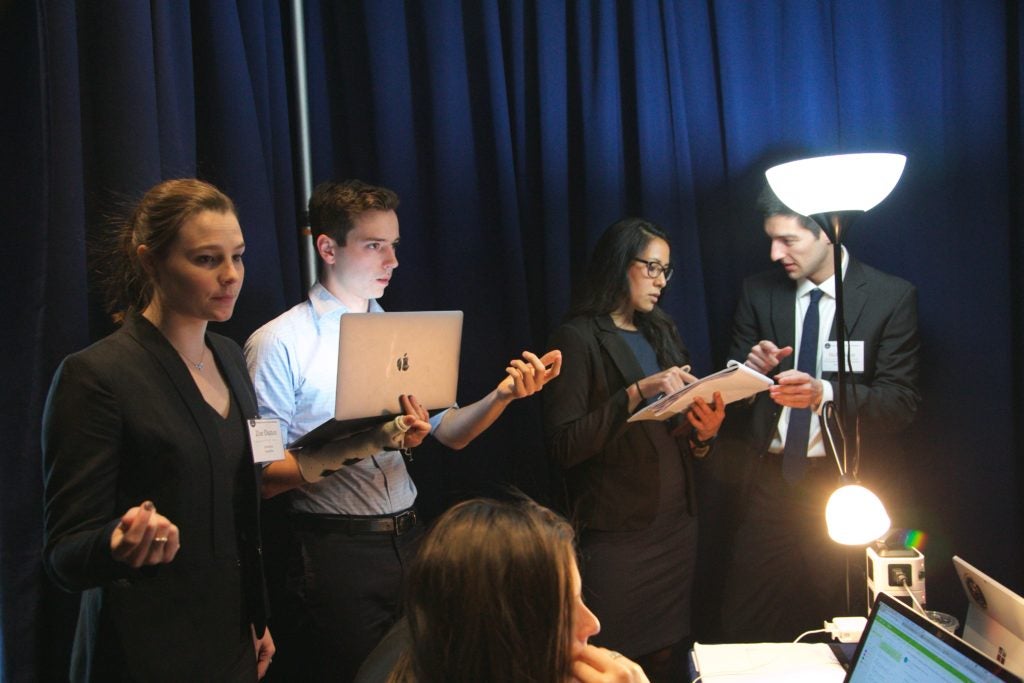 Another national security veteran recently joined the Georgetown Law faculty: Visiting Professor Mary B. McCord (L'90), who served as principal deputy assistant attorney general of the Department of Justice's National Security Division [interviewed in the Fall/Winter 2017 issue of Georgetown Law], helped launch Georgetown's new Institute for Constitutional Advocacy and Protection (ICAP).
"Don't let it bother you if you go into a room and you're the only woman there. You've got to start somewhere," McCord says. She points to the many women who have already achieved senior positions in national security, including Avril Haines (L'01).
Haines, who received Georgetown Law's 2017 Alumnae Award and was interviewed in the Spring/Summer 2017 issue of Georgetown Law, served in the Obama Administration as deputy director of the CIA and then as deputy national security adviser – the first woman to hold that position. She helped address current national security challenges at the Law Center's 2017 Women's Forum and emphasizes that there is a place for different styles of leadership in the national security field. Her advice? Be yourself.
"It absolutely makes a difference," says Associate Dean Rosa Brooks. From 2009 to 2011, Brooks served as counselor to Under Secretary of Defense for Policy Michèle Flournoy, then the highest-ranking woman at the Pentagon. "Number one, it means that young women students have role models and people to go to for advice. And number two, it means that young men [also learn] very early on. It reminds them that the senior people who will be in a position to help their career or hurt their career won't all look like guys."
ON THE GROUND
In a field where the law is continually evolving in response to new threats – and where legal precedent is constantly bumping up against political reality – the ability to bridge theory and practice is essential.
Students preparing for national security careers must learn to master process. "The how in government is so important," says Professor Jane Stromseth, whose résumé includes positions at the U.S. State Department, Department of Defense and the National Security Council. "How do you take a concept and translate it into an effective action on the ground?"
An expert on international criminal law and post-conflict justice, Stromseth was instrumental in establishing the Atrocity Prevention Board during her tenure at DOD. "In the academic world, we understandably focus on ideas," she says.
"Yet when you're in government you really learn how challenging the actual implementation is. It requires a whole host of practical skills – building support, finding allies, securing funding and so forth."
From 2013 to 2015, Stromseth served in the State Department as deputy to the ambassador-at-large in the Office of Global Criminal Justice and then as acting head of the office. After she returned to Georgetown Law, she developed a new seminar to impart lessons learned: "Justice and Accountability for International Atrocity Crimes: Bridging Theory and Practice."
"I include a lot of material from history, political science, sociology and philosophy as well as law," she says. "How do we make these international courts and hybrid courts leave a lasting legacy of justice in the affected societies? How do we make sure that they build public confidence? I bring to bear my knowledge of the legal frameworks, but also the diplomacy and the political and practical challenges of really making progress in this area."
In 2011, Adjunct Professor Carrie Cordero became the first director of national security studies at Georgetown Law – after extensive government experience, including positions as senior associate general counsel at the Office of the Director of National Intelligence and attorney advisor at the Department of Justice, where she practiced before the Foreign Intelligence Surveillance Court. She's now a CNN legal analyst whose career has spanned private practice, academia and government.
"When you're in government, national security law presents some pressing demands that are, in my mind, unmatched by the pressure of any other type of work," says Cordero. "That presents a challenge to anyone."
Her main goal at Georgetown was to build on the existing faculty expertise and curriculum while also reflecting recent developments that had a practical relation to the job market. Significant additions to the national security curriculum, Cordero said, involved cybersecurity and information privacy law; she also oversaw the early development of the LL.M. program. Among the first graduates was Nancy Fortenberry (LL.M.'11), now associate general counsel at the Central Intelligence Agency.
Today Georgetown Law provides a full complement of offerings covering every aspect of national security law for both J.D. and LL.M. candidates. At the hub is the Center on National Security and the Law, now headed by Professor Laura Donohue.
"We're there to push the conversation forward – convening meetings and discussions, sponsoring conferences," Donohue says. "We recently had a hundred judges come for a two-day training event on emergent technologies and national security."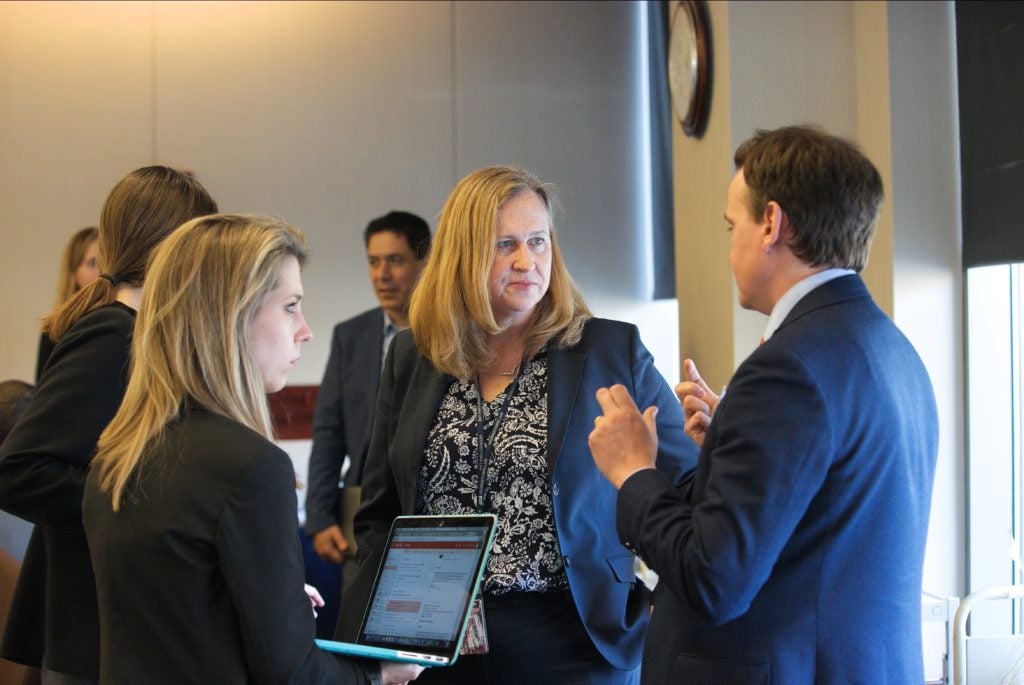 NATIONAL SERVICE
The current generation of women entering national security law faces both new opportunities and new challenges. As McKenzie Haynes (L'18) notes, their outlook has been shaped by the aftermath of 9/11.
"My interest in national security was probably most inspired by growing up in New York City and witnessing the attacks with my own eyes," she says. "I was a junior in high school on 9/11 and my high school wasn't very far from the towers. That day was life-changing." Haynes became especially interested in the intricate balance between security and liberty as the U.S. government reaction played out.
Haynes brought that intensity of purpose to this year's Sim, where she was the first student to fill the position of assessor. Providing feedback to some of the student teams, she reminded team members to fully engage in their roles: "You need to take this really seriously. You are your roles. Lives [will be] at stake."
Another generational change is the growing presence of women in the military. Because of Georgetown Law's location in Washington, D.C., students have extensive opportunities to explore careers in the Judge Advocate General's Corps in all service branches. Sabrina McCubbin, for example, worked both as an intern and extern with the U.S. Coast Guard JAG in the Office of Information and Intelligence Law.
U.S. Air Force Capt. Alix Holtsclaw (L'13) decided to join the JAG Corps after an internship with the USAF at Fort Meade, followed by a national security class with James Baker, then chief judge of the U.S. Court of Appeals for the Armed Forces. Along with her fellow JAG, Cdr. Katy Pasieta (LL.M. '13) of the U.S. Navy, Holtsclaw regularly serves on the control team at the Sim.
"It's one of the best places that you can practice the law," says Holtsclaw of the military. "You do everything from contract reviews to ethics to military justice. I've prosecuted a dozen trials." She's now stationed at Travis Air Force Base in California – her next assignment will take her back to school in cyber law at the University of Nebraska. "I'll then be sent to San Antonio to advise on cyber issues for the Air Force," she says.
CHANGING THE NARRATIVE
There are few places on the globe where the role of women plays out more starkly than Afghanistan. Ashley Nicolas (L'19), the student whose experience with the Sim opened this story, witnessed this first-hand as an active-duty U.S. Army intelligence officer deployed to the Kandahar province of Afghanistan, part of the 4th Stryker Brigade Combat Team, 2nd Infantry Division. A West Point graduate, Nicolas came to Georgetown Law as a Tillman Scholar and is currently interning in the counterterrorism section of the DOJ's National Security Division.
In preparation for deployment, Nicolas headed up the brigade's female engagement team. "What these all-female teams would do is bridge the cultural gap by communicating with women and children in the villages where our male service members were restricted from speaking," she says. "American women soldiers are viewed almost as a third gender – exempt from a lot of the treatment that Afghan women normally get from Afghan men, but able to establish some rapport with Afghan women and children that American men aren't able to."
While the experience made Nicolas deeply appreciative of the strides women have made in the United States, "it also gave me a sense of urgency, because I think we have a long way to go still. Having seen the effects of my time in Afghanistan, where 51 percent of the population's voice was being silenced, I want to make sure that there are no portions of our population that are being treated [like that].
"Changing the narrative is one of the biggest things," she says. "I came back wanting to make sure that we're creating an environment where we seek out women's voices…because they are a valuable and integral part of the conversation."