Georgetown Law Federal Legislation Clinic Helps Catalyze White House Conference on Hunger, Nutrition and Health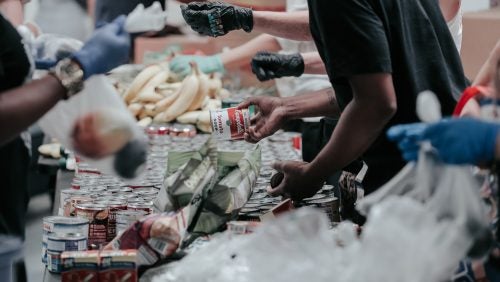 Students in the Georgetown Law Federal Legislation Clinic were glued to the clinic's televisions on September 28 as they watched the live stream of the 2022 White House Conference on Hunger, Nutrition, and Health – an event they helped make happen.
One of the clinic's clients, The Alliance to End Hunger, has long been advocating for the White House to host a major conference on hunger modeled after the Nixon Administration's Conference on Food, Nutrition and Health, held more than fifty years ago. That conference led to the expansion of landmark initiatives like the Supplemental Nutrition Assistance Program (SNAP) and the National School Lunch Program, as well as the creation of the Special Supplemental Nutrition Program for Women, Infants and Children (WIC).
During the last academic year, clinic students conducted in-depth research on the previous conference and then worked with the Alliance on its legislative advocacy, including meeting with Congressional staffers and anti-hunger champion Rep. Jim McGovern, Chairman of the House Rules Committee. They also helped draft a letter to President Joe Biden from the Alliance and other organizations asking for his support.
These efforts paid off: the omnibus appropriations bill Congress passed in March designated $2.5 million for the White House conference that just took place.
For current clinic student Noah Widmann (L'23), the issue is deeply personal. He recorded a video testimonial for the conference organizers in which he shared that he experienced food insecurity growing up in a low-income household headed by a single mother with a disability.
"If there's one thing I'd like this conference to know – just one thing – it's that I would not be where I am today without free school lunches," Widmann said in his message.
Widmann enrolled in the Federal Legislation Clinic this semester specifically so he could support the Alliance to End Hunger's ongoing work, which now will include advancing the priorities discussed at the conference, including President Biden's call to eradicate hunger in the United States.
"This was a terrific effort by our clinic students across several semesters, and it's especially rewarding for them to see their hard work pay off in this way, " said the clinic's director, Professor Dave Rapallo (LL.M.'97, LL.M.'99). "I'm so proud of their dedication, and I'm looking forward to future clinic students taking the baton on this critical issue."