Reunion 2018: Celebrating Big at Georgetown Law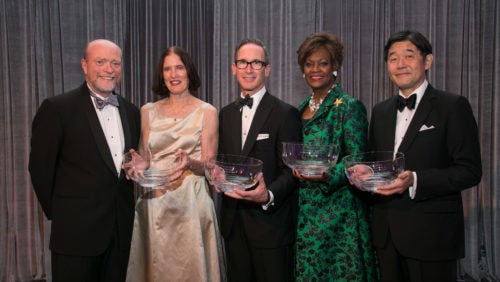 Georgetown Law celebrated in a big way at Reunion 2018: more than 1700 alumni and guests registered for events during October 19-21. Five alumni were honored for their enormous contributions to the profession.
Timothy King (F'89, L'93), the founder, president and CEO of Urban Prep Academies in Chicago, was presented with the Robert F. Drinan, S.J., (L'49, LL.M.'51, H'91) Law Alumni Public Service Award. King created Urban Prep, a network of public college-preparatory
boys' schools in Chicago (including the nation's first all-male charter high school) helping African American males from mostly low income families to succeed. One hundred percent of UP graduates have been admitted to four-year colleges and universities.
"During his career, Tim King has made contributions of great significance that mirror the dedication to service that Father Drinan himself exemplified…" Dean William M. Treanor said at Saturday night's Reunion Gala — adding that on a personal level, King stepped up in an extraordinary way when one of his students became orphaned; King became his guardian. "The once homeless young man is now a college graduate."
The Paul R. Dean Alumni Awards, given annually to Georgetown Law graduates exhibiting leadership to their alma mater and to the legal profession, went to Stephen F. Arcano (F'84, L'88); Kim Askew (L'83); Satoru Murase (L'83); and Kathleen Nealon (C'75, L'78).
Arcano, the global head of Skadden, Arps, Slate, Meager & Flom's transactions practices, is an adjunct professor at the Law Center and currently serves on its Board of Visitors. Askew, a partner with K&L Gates in Texas, has long been recognized as one of the country's most outstanding lawyers in commercial litigation; she also serves on the school's Board of Visitors. Murase is a partner in Mayer Brown's New York office and a member of the Corporate & Securities practice; he serves on Georgetown Law's Asian Law Alumni Advisory Board. Nealon, who has enjoyed a long career in international banking, particularly in the U.K., is a member of the European Law Alumni Advisory Board.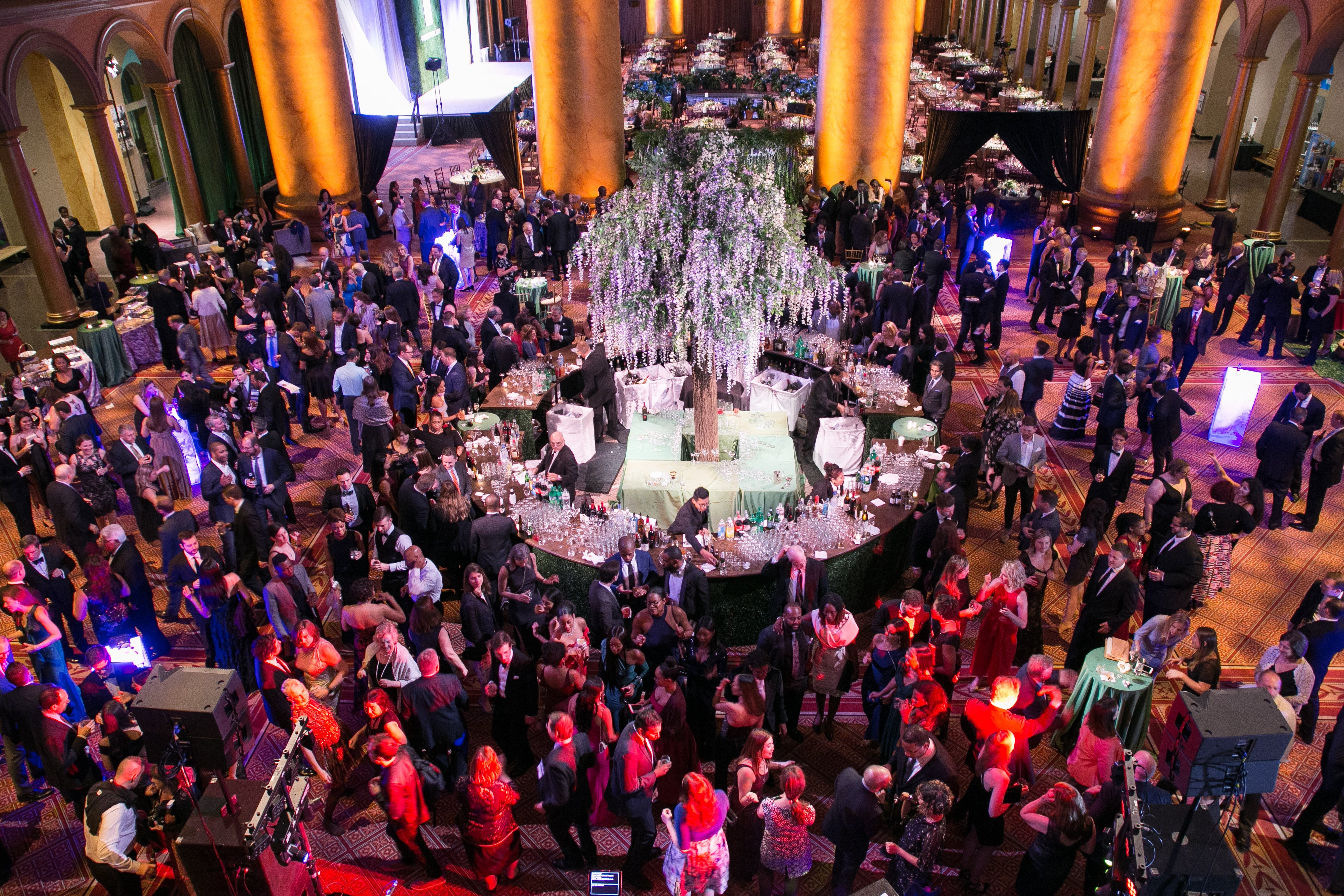 For the first time, all of the alumni awardees were selected by classmates and peers, noted David Wochner (F'96, L'02), chair of the Law Alumni Board, at the event. And in a video, all the honorees described how Georgetown Law built the foundation of their success.
"At Georgetown, there's just this vibe of service…" King said, noting that he was humbled to be honored with an award named for the late Father Drinan.
"I live in Dallas, Texas. This was the 80s. There had never been a lawyer of color, and certainly not a woman, going into a major law firm," Askew said. "It was the educational experience at Georgetown that allowed me to understand that I had the skills to do that."
A Sense of Community
The Reunion Gala at the National Building Museum was the culmination of a week that showcased the Law Center's most notable alumni and professors. On October 17, Dean Treanor led a conversation with James Robart (L'73) of the U.S. District Court for the Western District of Washington — who made headlines last year for blocking the first version of President Trump's travel ban. For his efforts, Robart was criticized by the president and his Twitter followers.
"The single greatest threat that my wife and I received [from the public] was 'when you run for reelection, I'm not going to vote for you,'" Robart said, to laughter from the audience. "I am going to assume that most of you at this point have studied the Constitution and know I have lifetime tenure…we weren't all that threatened by that one. But if he wants to call the position ridiculous, that troubles me."
The accusation "so-called judge" he found perplexing. "I was confirmed by the Senate 99 to nothing."
Robart — who worked on the Hill for both Democrats and Republicans while a student at Georgetown Law — said that "there is a greater acknowledgment of public service these days.
"It strikes me as particularly valuable because, believe it or not, there were people who were interested in becoming politicians in my class…Georgetown was one of the places where you could come, here in Washington, D.C."
A sense of community, and a sense of values, Robart noted, are critical for a successful career in public service. "Being a public servant asks you the question of, how do I benefit other people — not how do you benefit yourself."
"Georgetown Helped Me With That"
Friday morning began with an international flair: a conversation with Mexican Supreme Court Justices Alfredo Gutiérrez Ortiz Mena and Eduardo Medina-Mora Icaza. Professor Alvaro Santos, director of the Center for the Advancement of the Rule of Law in the Americas (CAROLA), and Visiting Professor Alicia Eli Yamin of the O'Neill Institute for National and Global Health Law guided the justices through contributions and challenges affecting the Mexican court including judicial activism, separation of powers, transparency, globalism and multiculturalism, lifetime appointments of justices (not the case in Mexico) and more.
"Today, it is common sense to recognize the Court's significant role in monitoring government policies, overseeing the political processes, and providing a forum for [deciding] the claims of civil society," Santos said, noting that the Mexican Court did not enjoy this position until recently. "After just a few years of having a politically active court, it's easy to naturalize these functions and forget that for over 70 years, the judiciary had been relegated to a secondary position."
Later in the day, Professors Steve Goldblatt, Irv Gornstein and Dori Bernstein of the Supreme Court Institute lent their thoughts on the upcoming U.S. Supreme Court term.
Dean Awardee Kim Askew appeared on a luncheon panel sponsored by the Women's Legal Alliance and led by Professor Hillary Sale, who teaches a Law Center seminar on Women and Leadership, with alumnae Angeline Chen (L'96) and Latham & Watkins partner Michele Johnson (L'98). The topic? Self-advocacy.
"Understand that we're talking to you today because we've learned this the hard way…" Askew said. "We had to work past a whole lot of stereotypes…ladies don't ask for stuff, we wait until someone sees us — crap," she said, to laughter. "That is not how it's done. I always had a very real idea of what I wanted to do as a lawyer. Georgetown helped me with that…I just did not want to be a lawyer, I wanted to be a lawyer who made a difference. You have to decide how you want to make a difference."
A Showcase of Events
Along with many other events, Reunion 2018 also celebrated the arts — through Professor Paul Butler's conversations with HBO's Kary Antholis (L'88) and author George Pelecanos (hosted by GEMALaw); the Asian Pacific American Law Student Association reception with New York Times bestselling author Min Jin Lee (L'93), and museum tours. The weekend concluded with a showing of the musical "Beetlejuice" at the National Theatre.
"Trivia question: Which graduate of Georgetown Law has won both an Oscar and an Emmy Award?" Butler asked, at the GEMALaw event. "The answer is Kary Antholis."
Butler had high praise for 'The Night Of,'" the HBO series tracking a young man arrested for murder; Antholis and writers of that film came to Georgetown Law in 2016. This time, a short film called "Miss Mary's Room," written by Pelecanos and directed by Pelecanos's son Nick, served as the focus for a discussion of criminal justice.
"We wanted to show people we could make a film in Washington," Pelecanos said. "We used local crews, actors…we had 60 students from Howard as interns…some of the students are now working in the industry, because they had a credit under their belt…I want to make movies and television here in Washington, and we can do it."