Student Groups, O'Neill Institute, Office of Equity & Inclusion Host Events on the #MeToo Movement, Sexual Violence and the Path to Change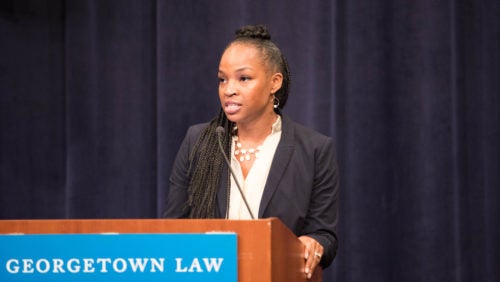 "The last few weeks have been hard — as individuals, as a community, and as a country…" said Emily Clarke (L'20), president of the Women's Legal Alliance at Georgetown Law. "We have been forced to grapple with questions of power, gender, credibility and integrity. Some of us have dealt with this in our classes. Watching the [Supreme Court nomination] hearings and discussing their impact. Many of us have huddled with our friends and tried to attach the right words to how we are feeling. But even more of us have sat alone, wondering how this could be happening and where we are supposed to go from here."
On October 10, the Women's Legal Alliance, Women of Color Collective, Advocates Against Sexual Violence and the Gender Justice Initiative (GJI) groups hosted "Taking Women, Survivors, & Government Institutions Seriously: An Open Dialogue for the Community in the Aftermath of the Confirmation Hearings."
Earlier in the day, the O'Neill Institute for National and Global Health Law hosted "#MeToo — What is the path from outrage to systemic change" as part of its Fall 2018 Colloquium Class.
On October 11, the Office of Equity and Inclusion cohosted "Exposing the Invisible #MeToo,"— a conversation with journalist and author Bernice Yeung — along with GJI, the Georgetown Journal of Gender and the Law and the Asian Pacific American Law Students Association (APALSA) on October 11. Yeung's book, In a Day's Work: The Fight to End Sexual Violence (The New Press, 2018) chronicles the journeys of women who sought to disrupt the patterns that promote invisibility and help all immigrant women facing exploitation. Professor Jane Aiken moderated that discussion.
#MeToo
At the October 10 O'Neill Institute event, Leslie Crutchfield, executive director of the Global Social Enterprise Initiative at Georgetown University's McDonough School of Business, led a discussion on the health, legal and policy implications of the #MeToo Movement with Miquel Davies, Georgetown's Women's Law & Public Policy Fellow at the National Women's Law Center; Professor Deborah Epstein of Georgetown Law's Domestic Violence Clinic; and Professor Susan Deller Ross of the International Women's Human Rights Clinic.
What can the #MeToo Movement do to end violence and promote gender equality? Crutchfield noted that Candy Lightner, founder of Mothers Against Drunk Driving, faced a 1980s culture that believed that drunk drivers who killed victims were punished enough by merely having to live with their actions — in essence, that the drunken man who killed Lightner's daughter was being victimized if he were held accountable. Today, society holds the view that the victims of drunk drivers are the people who die. "Successful movements change hearts and policies," Crutchfield said.
Women's credibility
Professor Deborah Epstein of Georgetown Law's Domestic Violence Clinic later participated in the "Taking Women, Survivors, & Government Institutions Seriously" event on October 10, examining on both panels the ways that women's credibility is undermined. These include forcing women's stories into a he-said-she-said paradigm so that workplace supervisors, for instance, feel they can do nothing to address the problems — or gaslighting women by insisting that they were "confused" about what happened to them.
"This kind of patronizing approach to women's credibility, this kind of 'mansplaining' — 'we know better than you do which parts of your story are actually correct and credible and which parts are not correct and credible' — is baked into our culture," Epstein said.
"My clients in domestic violence protection order cases routinely describe how their partners tell them that although they are well meaning and well intentioned, they've just imagined the abuse, or they have exaggerated it, they don't remember it, or that the story is accurate, they
just have the roles confused: they were the perpetrator, not the victim…," she said. "The women who hear this again and again and again — this, 'you remember it but you don't really remember it'—start to feel a sense of powerless and futility and start to doubt their own credibility. There's a vicious cycle here… women doubt themselves, which gives in turn men in power even more permission to engage in abusive conduct."
Dr. Christine Blasey Ford's testimony in front of the Senate Judiciary Committee, she said, "has to be a catalyst for a widespread demand for an eradication of this discounting of women's credibility."
Promoting change
Epstein was joined at the Women's Legal Alliance event by Professor Jamillah Bowman Williams, Professor Robin West and Professor Victoria Nourse, leading the discussion on how to channel outrage into lasting change.
"I was deeply unprepared for what happened with Dr. Blasey Ford [in front of the Senate Judiciary Committee]," said Nourse, who worked on the Hill during the creation of the Violence Against Women Act and during Anita Hill's testimony at Clarence Thomas's confirmation hearings in 1991. "My personal reaction was that it was horrifying. I teach law, and I teach cases, but I also teach about Congress….we looked at the intersection of politics and law in a way that no one could contend had anything to do with due process, what we learned in law school."
Although many of the participants and attendees at the events were women, students noted that sexual assault and gender discrimination are not issues that are limited to women. Professor Peter Edelman, who has spent more than a half century working to eliminate poverty in this country, said there is only one thing to do — organize and fight.
"If you don't, nothing is going to change," he said. "There is a possibility that we can actually make a difference."